My Bonnie: How Dementia Stole the Love of My Life (Paperback)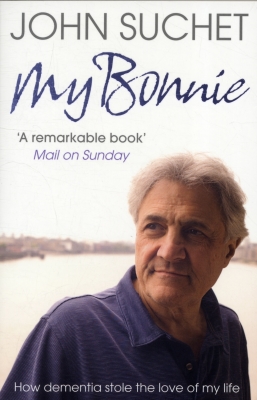 $13.95
Email or call for price
Description
---
After a whirlwind romance and a marriage that spanned decades, former face of ITV news, John Suchet, revealed on breakfast television that his beloved wife Bonnie was suffering with dementia, eliciting a huge response. Never had anyone spoken so movingly about dementia, the thief that stole his still youthful wife on the eve of their retirement.
My Bonnie was the number one bestseller in its category, according to the Sunday Times. Finally, the long awaited paperback edition is published, this time with a poignant new epilogue updating us on Bonnie and John's journey through the illness. The Mail on Sunday calls My Bonnie 'remarkable'; 'an act of living resistance' says the Observer.
My Bonnie is a heart-rending and uplifting read, alternating between Bonnie and John's intense love story and the progression of the illness. When he first met Bonnie, John was bowled over by her Grace Kelly-esque poise and radiance. An exotic, and married, American beauty, she seemed beyond his reach. He had no idea, however, that his love was returned; even less suspected that the two of them would one day be together, and that for 26 years, every moment would be intense, perfect, and shared. Described by readers as 'astonishingly honest' and a 'personal, beautiful love story', John's moving account of how his wife, barely past middle age, was diagnosed out of the blue with dementia, a disease usually associated with the elderly, remains full of joy, despite the tragedy.
Finally united, their marriage was passionate and anyone could see that John admired and adored Bonnie and that she loved him right back. They looked forward to their golden years when they could finally be with each other without distractions or obstacles. But the bewildering and gradual seizure of Bonnie's mind stole away their hopes of growing old together and made each day a struggle. And yet Bonnie's sense of humour and natural warmth constantly triumphs.
About the Author
---
John Suchet is an award-winning British newsreader, television presenter, author and a morning radio show host on Classic FM. Most famous for being a newsreader for ITV News, John worked for the channel for 32 years, between 1972 and 2004.He retired from ITN in 2004, but made a welcome return to TV news in 2006, presenting Five News.In February 2009 John appeared on BBC Breakfast to talk about Bonnie's dementia and to raise awareness of the disease and the charities supporting it.He has received a number of awards, notably The Royal Television Society's Lifetime Achievement Award and The Television Newscaster of the Year.