The History of Last Night's Dream: Discovering the Hidden Path to the Soul (Hardcover)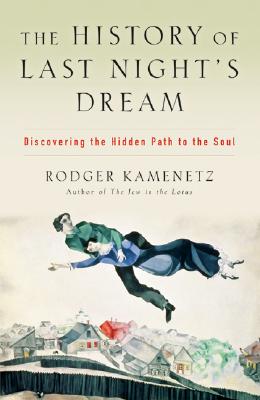 Description
---
A third of our time on earth is spent sleeping, yet our dreams, if we remember them at all, have been relegated to nothing more than curious anecdotes. When Sigmund Freud awakened modern interest in the dream a century ago, his theory of interpretation undermined the potential insights dreams had to offer. For Freud, dreams were little more than fragmented puzzle parts made up of events from our waking lives. Most of us today still live under Freud's far-reaching influence. When we wake up after experiencing a powerful series of images, we too readily explain them away or simply ignore them all together. Whatever emotion or insight the dream evokes slowly fades. But what if Freud was wrong? Unless we challenge his deeply-ingrained assumptions, we will forever lose the gift of our dreams.
International bestselling author Rodger Kamenetz believes it is not too late to reclaim the lost power of our nightly visions. Kamenetz's exploration of the world of dreams reopens all the questions scientists and psychologists claimed to have settled long ago. The culmination of decades of research, The History of Last Night's Dream is a riveting intellectual and cultural investigation of dreams and what they have to teach us. We discover how the age-old struggle between what we dream and how we interpret our dreams has shaped Western culture from biblical times to today. Kamenetz introduces us to an eighty-seven-year-old female kabbalist in Jerusalem, a suave Tibetan Buddhist dream teacher in Copenhagen, and a crusty intuitive postman-turned-dream master in northern Vermont. He fearlessly delves into this mysterious inner realm and shows us that dreams are not only intensely meaningful but that they hold essential truths about who we are. In the end, each of us has the choice to embark on this illuminating path to the soul. But one thing is certain: our dreams will never be the same again.
About the Author
---
Roger Kamenetz wrote the landmark international bestseller, The Jew in the Lotus, and the winner of the National Jewish Book Award, Stalking Eljah. He is a Louisiana State University Distinguished Professor of English and Religious Studies and a certified dream therapist. He lives in New Orleans with his wife, fiction writer Moira Crone.
Praise For…
---
"Kamenetz has written a manual for living the dream of life through the real dreams of an individual."
— Andrei Codrescu, NPR Commentator

"A profound, affecting and deeply rewarding book from a charismatic teacher."
— Jonathan Kirsch, author of A History of the End of the World

"Kamenetz's new book brilliantly combines dream and soul and offers an accessible understanding of both. I highly recommend it."
— Brian L. Weiss, M.D., author of Many Lives, Many Masters

"An enchanting and provocative book exploring a subject with profound implications about our very humanity."
— Robert Olen Butler, Pulitzer Prize Winning author of A Good Scent from a Strange Mountain

"[A] powerful and beautifully written book."
— Stephen J. Dubner, bestelling co-author of Freakanomics

"Kamenetz's fierce honesty and unflinching self-revelation inspire both admiration and awe [...] [A] smart, funny, and revolutionary book..."
— Susan Larson, New Orleans Times-Picayune

"Rodger Kamenetz writes in this fascinating book that words, too many words, stand between us and our dreams."
— Los Angeles Times

"The History of Last Night's Dream is at once affable and audacious; Kamenetz is a reliable narrator in unreliable territory.... Kamenetz's poetic eye is alive and well."
— The Forward

"Rodger Kamenetz's vividly honest and well-reswearched book on dreams in Western culture is extraordinary-- in part for its defiance of genre...Before I read it had heard Kamenetz refer to it as a memoir, but it as much an argument for a paradigm shift in dream interpretation."
— The Christian Century