Smonk or Widow Town (Hardcover)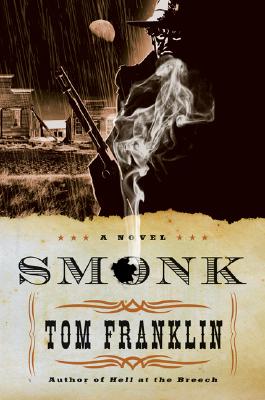 $23.95
Email or call for price.
Description
---
It's 1911 and the secluded southwestern Alabama town of Old Texas has been besieged by a scabrous and malevolent character called E. O. Smonk. Syphilitic, consumptive, gouty and goitered, Smonk is also an expert with explosives and knives. He abhors horses, goats and the Irish. Every Saturday night for a year he's been riding his mule into Old Texas, destroying property, killing livestock, seducing women, cheating and beating men—all from behind the twin barrels of his Winchester 45-70 caliber over and under rifle. At last the desperate citizens of the town, themselves harboring a terrible secret, put Smonk on trial, with disastrous and shocking results.
Thus begins the highly anticipated new novel from Tom Franklin, acclaimed author of Hell at the Breech and Poachers.
Smonk is also the story of Evavangeline, a fifteen-year-old prostitute quick to pull a trigger or cork. A case of mistaken identity plunges her into the wild sugarcane country between the Alabama and Tombigbee rivers, land suffering from the worst drought in a hundred years and plagued by rabies. Pursued by a posse of unlikely vigilantes, Evavangeline boats upriver and then wends through the dust and ruined crops, forced along the way to confront her own clouded past. She eventually stumbles upon Old Texas, where she is fated to E. O. Smonk and the townspeople in a way she could never imagine.
In turns hilarious, violent, bawdy and terrifying, Smonk creates its own category: It's a southern, not a western, peopled with corrupt judges and assassins, a cuckolded blacksmith, Christian deputies, widows, War veterans, whores, witches, madmen and zombies. By the time the smoke has cleared, the mystery of Smonk will be revealed, the survivors changed forever.
Praise For…
---
"Maintaining the dark tone of his excellent first novel, Franklin goes for the gothic in [this] weirdly fascinating tale"
-Kirkus Reviews

"fast-paced and unrelentingly violent...readers looking for a strange and savage tale can't go wrong."
-Publishers Weekly

"Part western, part Southern gothic, yet wholly original, this is a beef jerky of a story [.] full of flavor"
-Tampa Tribune

"An edgy, quirky, bawdy look at the days of cowboys and shootouts, Smonk is the real deal."
-David Milch, Creator of Deadwood

"A David Lynch and Quentin Tarantino codirection of Deadwood . . . a world where not one person knows an iota of goodness."
-San Francisco Chronicle Book Review

"[Smonk] mixes William Faulkner, Cormac McCarthy, and Deadwood's David Milch, Franklin pulls off a unique Western saga."
-Entertainment Weekly

"I am amazed at Tom Franklin's power"
-Philip Roth

"Franklin's talent for the completely offbeat and outrageous illuminates a world that is at once vibrantly alive and completely human."
-Times-Picayune (New Orleans)