Julie of the Wolves CD (Abridged / CD-Audio)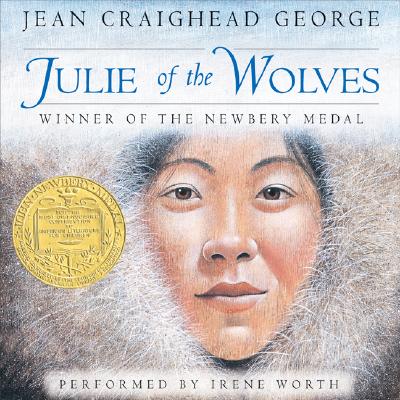 $17.49
Email or call for price
Description
---
The thrilling Newbery Medal–winning classic about an Eskimo girl lost on the Alaskan tundra and how she survives with the help of a wolf pack.
Julie of the Wolves is a staple in the canon of children's literature and the first in the Julie trilogy. The survival theme makes it a good pick for fans of wilderness adventures such as My Side of the Mountain, Hatchet, or Island of the Blue Dolphins.
To her small Eskimo village, she is known as Miyax; to her friend in San Francisco, she is Julie. When her life in the village becomes dangerous, Miyax runs away, only to find herself lost in the Alaskan wilderness.
Miyax tries to survive by copying the ways of a pack of wolves and soon grows to love her new wolf family. Life in the wilderness is a struggle, but when she finds her way back to civilization, Miyax is torn between her old and new lives. Is she Miyax of the Eskimos—or Julie of the wolves?
Don't miss any of the books in Jean Craighead George's groundbreaking series: Julie of the Wolves, Julie, and Julie's Wolf Pack.
About the Author
---
Jean Craighead George wrote over one hundred books for children and young adults. Her novel Julie of the Wolves won the Newbery Medal in 1973, and she received a 1960 Newbery Honor for My Side of the Mountain. Born into a family of famous naturalists, Jean spent her entire career writing books that celebrated the natural world.