Homebrewer's Companion Second Edition: The Complete Joy of Homebrewing, Master's Edition (Paperback)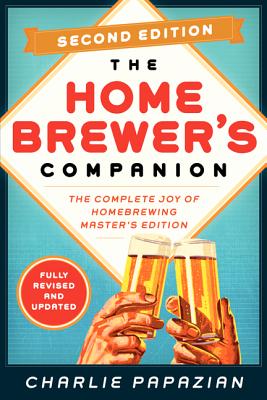 $21.05
Not in stock. Usually arrives in 2-5 Days
Description
---
Newly revised and updated, the master-level companion to the world's bestselling beer making book, The Complete Joy of Homebrewing.
In this inviting, easy-to-follow, hands-on guide, Charlie Papazian, the godfather of homebrewing, takes readers beyond the basics of homebrewing. This second edition of the classic volume includes detailed charts and tables, the latest techniques and equipment information, new recipes, and more, including:
Added details on the art and science of brewing beer
Up-to-date malt and fermentation charts
Websites and resources
Everything you need to know about hops and how to use them
Expanded information on yeast and microbiological enhancements that can make your beer even better
A list of beer styles with references
55 beer recipes and 10 mead recipes—plus dozens of new recipes
How to make gluten-free beer
An expanded glossary of beer characters and a beer evaluation section
Expert insight and recommendations on beer and food pairings and cooking with beer
About the Author
---
Charlie Papazian is the founder of the American Homebrewers Association (AHA) and the Association of Brewers and the current president of the Brewers Association. The creator of the Great American Beer Festival and the World Beer Cup, he is the founding publisher of the magazines Zymurgy (for homebrewers) and The New Brewer (for professional craftbrewers). He lives in Boulder, Colorado, with his wife, Sandra, and daughter, Carla, where he still avidly homebrews lagers, ales, and honey meads.