The Mending Summer (Hardcover)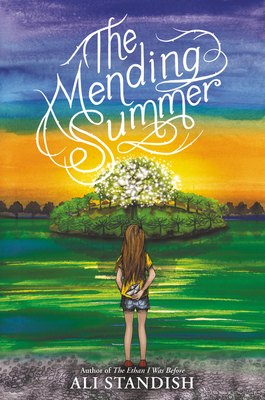 $16.99

Not in stock. Usually arrives in 2-5 Days
Description
---
Perfect for fans of Orphan Island and Wishtree, The Mending Summer is the next stunning middle grade novel from Ali Standish—author of the Carnegie Medal nominee The Ethan I Was Before and August Isle, Bad Bella, and How to Disappear Completely—about a girl who is struggling to deal with her father's alcoholism when she discovers an enchanted lake…
Some summers are meant to break your heart. Others to mend it. Every once in a while, a summer rolls around that does both. 
For Georgia, this summer is shaping up to be a big disappointment. Mama is busy studying for her biology degree. Daddy is working nights, and often the man who comes home isn't Daddy. He's a man who looks like Daddy, but walks a little wobbly. Who sounds like Daddy, but sings a little too loud. Georgia calls him the Shadow Man.
So now, instead of riding horses with her friends at camp, Georgia is sent off to the country to stay with her mysterious great-aunt for the summer to avoid her parents' fighting.
There, a lonely Georgia meets a mysterious friend named Angela and together, they discover a magical lake—one that can make wishes come true. At first, the lake offers Georgia a thrilling escape from her worries and hope that she can use its magic to heal her family. But as things grow worse at home, a troubled boy appears at the lake and the wishes threaten to spiral out of control . . . 
Award-winning author Ali Standish explores the courage it takes to piece your heart back together again when those closest to you break it. 
"Standish has created a timeless tale of discovery, growth, and relationships. A powerful story about an important topic." —School Library Journal (starred review)
"Readers will be drawn into this story of friendship, magic, and the heartbreak—and healing—of addiction." —Kirkus
A JUNIOR LIBRARY GUILD SELECTION!
About the Author
---
Ali Standish, author of the critically acclaimed The Ethan I Was Before, August Isle, and Bad Bella, grew up in North Carolina and spent several years as an educator in the Washington, DC, public school system. She has an MFA in children's writing from Hollins University and an MPhil in children's literature from the University of Cambridge. She lives in Raleigh with her husband, Aki, and their two rescue dogs, Bella and Keeper. You can visit her online at www.alistandish.com.
Praise For…
---
Standish has created a timeless tale of discovery, growth, and relationships. Her portrayal of a child learning what it means to have an alcoholic family member is both heartrending and resonant, illustrating that parents can't always live up to young people's expectations. A powerful story about an important topic. Recommended for all ­libraries serving middle grade readers. — School Library Journal (starred review)
"Readers will be drawn into this story of friendship, magic, and the heartbreak—and healing—of addiction." — Kirkus Reviews
"Standish (How to Disappear Completely) skillfully portrays the uncertainty and powerlessness of Georgia's home situation; the magic at the heart of this understated tale offers its protagonist escape and healing, as well as the understanding that wishing is insufficient to change difficult circumstances."  — Publishers Weekly
"Standish once again merges fantasy elements with reality in a captivating way."  — Booklist
"An absolute gem of a friendship story that's full of magic, courage, and love." — Gail D. Villanueva, author of My Fate According to the Butterfly
"A magical story exploring the true meaning of family, forgiveness, and friendship." — Jen Petro-Roy, author of Life in the Balance and Good Enough