FGTeeV Saves the World! (Paperback)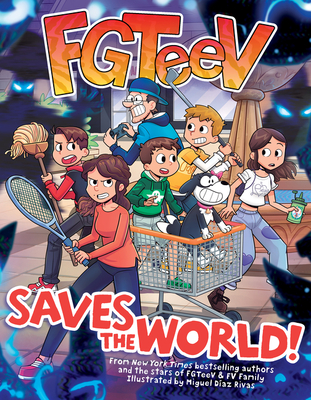 $12.99

Coming Soon - Available for Pre-Order Now
Description
---
It's game time! Press start on FGTeeV Saves the World!, the second graphic novel in the awesome-packed, New York Times bestselling series by YouTube's favorite family of gamers, FGTeeV!
The FGTeeV family gamers really, really love playing games! But for Duddy, one game is by far best: Super Realistic (And Totally Not Made Up) Zombie Battles from the War of 1812. Even though in Duddy's opinion the updated version doesn't stand up to the classic original, it doesn't mean that he can't quickly rack up all the power-ups, bonuses, and achievements to show the kids—Lexi, Mike, Chase, and Shawn—how it's done. That is until the game freezes!
The family heads to the Shady Acres Mall to fix their controller, but while at the game store, one wrong click causes all the characters from the Zombie Battles game to explode into the real world. It's total mayhem! Now Duddy, Moomy, Lexi, Mike, Chase, and Shawn have to fight their own avatars in order to save the world—but will they be able to stop the army of world-conquering video game villains before the bad guys level up?
Game like you never gamed before in the fun-filled second graphic novel adventure from YouTube sensation FGTeeV, with more than 18 MILLION subscribers and over 18.6 BILLION views!
About the Author
---
Duddy, Moomy, Lexi, Mike, Chase, and Shawn are the stars of FGTeeV, one of the most popular family gaming YouTube channels in the world, with over 20 million subscribers and more than 11 billion views. This family of six loves gaming, travelling, and spontaneous dance parties. To learn more, visit them on YouTube @FGTeeV.
Miguel Díaz Rivas is a freelance illustrator from Spain. He was born in Cabra, a small town in Córdoba. He studied Media and Communication in Seville, focusing on how to use the audiovisual language to tell stories. After college he studied Illustration and Animation at E.S.D.I.P in Madrid. Nowadays Miguel works as a freelance artist for educational books and publishing companies and he contributes to advertising agencies, making illustrations and animations.