Tales of a Shaman's Apprentice: An Ethnobotanist Searches for New Medicines in the Rain Forest (Paperback)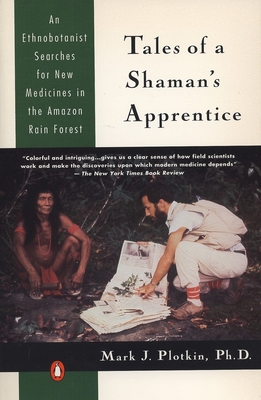 Description
---
The fascinating account of a pioneering ethnobotanist's travels in the Amazon—at once a gripping adventure story, a passionate argument for conservationism, and an investigation into the healing power of plants
For thousands of years, healers have used plants to cure illness. Aspirin, the world's most widely used drug, is based on compounds originally extracted from the bark of a willow tree, and more than a quarter of medicines found on pharmacy shelves contain plant compounds. Now Western medicine, faced with health crises such as AIDS, Alzheimer's disease, and cancer, has begun to look to the healing plants used by indigenous peoples to develop powerful new medicines. Nowhere is the search more promising than in the Amazon, the world's largest tropical forest, home to a quarter of all botanical species on this planet—as well as hundreds of Indian tribes whose medicinal plants have never been studied by Western scientists. In
Tales of a Shaman's Apprentice
, ethnobotanist Mark J. Plotkin recounts his travels and studies with some of the most powerful Amazonian shamans, who taught him the plant lore their tribes have spent thousands of years gleaning from the rain forest.
For more than a decade, Dr. Plotkin raced against time to harvest and record new plants before the rain forests' fragile ecosystems succumb to overdevelopment—and before the Indians abandon their own culture and learning for the seductive appeal of Western material culture. Tales of a Shaman's Apprentice relates nine of the author's quests, taking the reader along on a wild odyssey as he participates in healing rituals; discovers the secret of curare, the lethal arrow poison that kills in minutes; tries the hallucinogenic snuff epena that enables the Indians to speak with their spirit world; and earns the respect and fellowship of the mysterious shamans as he proves that he shares both their endurance and their reverence for the rain forest. Mark Plotkin combines the Darwinian spirit of the great writer-explorers of the nineteenth century—curious, discursive, and rigorously scientific—with a very modern concern for the erosion of our environment and the vanishing culture of native peoples.
About the Author
---
Mark J. Plotkin, Ph.D., was born and raised in New Orleans and educated at Harvard, Yale, and Tufts. Trained as an ethnobotanist, he has done extensive research throughout the lowlands of tropical South America. He is a co-founder of the Amazon Conservation Team, where he currently serves as president. Dr. Plotkin has previously served as a research associate at the Smithsonian Institution and at the Botanical Museum of Harvard University, the director of plant conservation at the World Wildlife Fund, and the vice president of Conservation International. His research has been featured in Life, Newsweek, Smithsonian, Time, and The New York Times as well as PBS's Nova and the Academy Award-winning documentary Amazon.
Praise For…
---
"Colorful and intriguing . . . Gives us a clear sense of how field scientists work and make the discoveries upon which modern medicine depends."
—The New York Times Book Review

"Fascinating . . . [Plotkin] expresses a very proper awe for the charismatic and mysterious powers of the shamans . . . He has a gift for evoking a sense of place, and the characters he meets come alive on the page."
—Los Angeles Times

"Intriguing, engaging, exciting, and disturbing—a rare accomplishment in a botanical work . . . In their richness and diversity, these pages recall Amazonia itself."
—American Horticulturist

 "Thrilling . . . A first-rate travel and adventure tale in which scientific lore, passionate advocacy of conservation and literary gifts are combined."
—Publishers Weekly

"Plotkin's tales permit the reader who has never ventured into any rain forest . . . to experience almost firsthand the hazards, as well as the pleasures, of studies with witch doctors. His accounts of hacking his way through lianas thick and thin, of being soaked in sweat and rain, of avoiding large crocodilians, and of being bitten by vampire bats, are the stuff of adventure movies."
—Natural History magazine

"This is a lot more than ethnobotany—it's an adventure story. . . . Plotkin is not just some fashionable rain forest Angst meister; he's been there and knows whereof he speaks."
—Men's Journal

"A compelling, insightful narrative that whisks the reader into a time and place where plants, animals, and indigenous societies coexist . . . A skillful blend of travel adventure, botanical and cultural history, and Amazonian research."
—Library Journal

"Plotkin reminds us often of the intimate connections we still have with the rainforest. . . . This book will help save the forest and hopefully the children of the forest, as it reminds us why we should become involved."
—Audubon

"Tales of a Shaman's Apprentice combines high adventure, scientific insight, and a treasure trove of fascinating information."
—Zoogoer magazine

"Tales of a Shaman's Apprentice teaches a great deal, while reading like a marvelously exotic travelogue. Most importantly, it re-excites our sense of wonder."
—Juliet Wittman, editor of Discovery