The Solitude of Prime Numbers: A Novel (Paperback)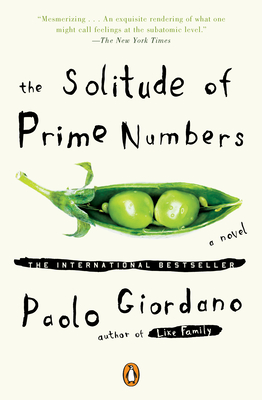 $17.00
Not in stock. Usually arrives in 2-5 Days
April 2010 Indie Next List
---
"Childhood traumas have shattered Alice and Mattia physically and psychologically. A friendship that begins in high school provides for each an anchor to a world too frightening to navigate alone. In this singular and striking debut, Giordano explores the ability of the human spirit to endure and to heal. Once you pick this up, you won't want to put it down."
— Jennie Turner-Collins, Joseph-Beth Booksellers, Cincinnati, OH
Description
---
"Mesmerizing...an exquisite rendering of what one might call feelings at the subatomic level." -The New York Times

From the author of Heaven and Earth, a sensational novel about whether a "prime number" can ever truly connect with someone else 

A prime number is a lonely thing. It can only be divided by itself or by one, and it never truly fits with another. Alice and Mattia are both "primes"-misfits haunted by early tragedies. When the two meet as teenagers, they recognize in each other a kindred, damaged spirit. Years later, a chance encounter reunites them and forces a lifetime of concealed emotion to the surface. But can two prime numbers ever find a way to be together? A brilliantly conceived and elegantly written debut novel, The Solitude of Prime Numbers is a stunning meditation on loneliness, love, and what it means to be human.
About the Author
---
Paolo Giordano is the author of the critically acclaimed Like Family and The Human Body, as well as the international bestseller The Solitude of Prime Numbers, which has been translated into more than forty languages, as well as his new publication, How Contagion Works. Giordano has a PhD in particle physics and is now a full-time writer. He lives in Italy. Heaven and Earth is his latest novel.
Praise For…
---
"A mesmerizing portrait of a young man and woman whose injured natures draw them together over the years and inevitably pull them apart. Mr. Giordano remarkably and movingly portrays the hesitant groping toward warmth that works beneath the pair's emotional disabilities. The author works with piercing subtlety. An exquisite rendering of what one might call feelings at the subatomic level."
-Richard Eder for The New York Times

"The melancholy that hangs over The Solitude of Prime Numbers is seductive and unnerving. A-."
-Entertainment Weekly

"Giordano's passionate evocation of being young and in despair will resonate strongly with readers."
-USA Today

"The elegant and fiercely intelligent debut novel by 27-year-old physicist Paolo Giordano, The Solitude of Prime Numbers revolves around Mattia and Alice, friends since high school-'twin primes, alone and lost, close but not close enough to really touch each other,' wherein resides the seductive enchantment of this singular love story."
-Elle

"This compelling debut shows a remarkable sensitivity and maturity in the depiction of its damaged soulmates. A fragile, unconventional love story by a talent to watch."
-Kirkus

"A deeply touching debut. Beautiful and affecting...it reads easily, due in party to the almost seamless translation. An intimate psychological portrait of two 'prime numbers'-together alone and alone together."
-Booklist

"Surprising, intimate and deeply moving, The Solitude of Prime Numbers takes the readers on a hypnotic journey through an unexpected love affair. Paolo Giordano writes with grace and elegance of gentle but damaged characters, using inventive language to create a story unlike anything in recent fiction. This is everything a debut novel should be and leaves one longing for the books that will follow."
-John Boyne, author of The Boy in the Striped Pajamas

"Paul Giordano is an expert on loss and sorrow. He understands and reveals the hidden hollows of the heart. His story is a quiet one, but his strong writing and unforgettable characters make his book a page turner. The Solitude of Prime Numbers is sad, dark and perfect."
-Mary Pipher, author of Seeking Peace: Chronicles of the Worst Buddhist in the World

"What a shock to open a novel written by a young physicist in Italy and find myself there, on every page. No wonder Giordano's readers can be counted in the millions; this astute, aching contemplation of solitude has a power to make us all feel a little less alone. A love story told with astonishing perceptiveness and remarkable subtlety, The Solitude of Prime Numbers is an extraordinary affirmation of the reasons we read."
-Stefan Merrill Block, author of The Story of Forgetting