Spiritual Exercises (Penguin Poets) (Paperback)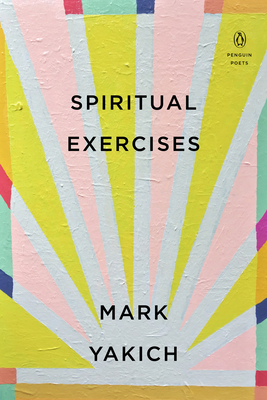 Description
---
A new collection from a poet of "wily verve" whose work is "filled with more satire and jeopardy than anything going today" (Terrance Hayes)

Mark Yakich's fifth collection of poetry is a dynamic and discerning journey of devotion and temptation in pursuit of the divine. Not trifling in ambiguity but diving headlong into it, Spiritual Exercises wrestles with popular gods as much as with personal ghosts. From autism to eroticism, from benediction to excommunication, and from grief to gratitude, this collection lays bare a full spectrum of emotional life, showing us how grace can be as playful as it is sincere.
About the Author
---
Mark Yakich is a poet, novelist, painter, and the Gregory F. Curtin, S.J., Distinguished Professor of English at Loyola University New Orleans.
Praise For…
---
Praise for Spiritual Exercises:

"The best poems in Yakich's skilled book play with the porous border between the profane and the sacred . . . Ignatius, smirking, would be proud." —The Millions, "Must-Read Poetry: July 2019"

"Yakich triangulates the quandaries and contradictions of spirituality through a variety of familial relationships; ex-husbands, ex-wives, miscarried sons, and dead daughters hover over the zany exploits of those still living, creating moments of profundity . . . Nothing in this book is "sacred" in a way that precludes it from humor or critique . . . In these poems, Yakich takes his humor seriously." —Publishers Weekly

"'Tears often require technology' is just one of Yakich's canny observations in the spiritually pained and chilling poems of Spiritual Exercises. With an enviable spareness, these poems explore the conflux of faith and betrayal within the familial realm. While they spring from the kind of honesty that may well scare some readers senseless, there is much to be learned from the speaker's endeavor to test his own humanity." —Cate Marvin 
 
"St. Ignatius' Spiritual Exercises presuppose three kinds of thought: one from within, one from the good spirit, and one from the bad. Mark Yakich's Spiritual Exercises adds a fourth kind—one that sees everything from a startling perspective, while gasping for breath." —H. L. Hix

"Poets from George Herbert to Gerard Manley Hopkins turned to the spiritual exercises of 16th century churchmen and mystics as models for their meditative poems. Mark Yakich's wise, loving, and often wry new book draws on that tradition, and renews it. Readers will find themselves tracing the thread of life from birth to death and back again, with many revelations along the way." —Susan Stewart

"Mark Yakich is a poet of such violent tonal shifts that you feel the pulse of the human vibrating with all of its conundrums, contradictions, and longings—irony here becomes both poison and antidote, a homeopathic shot to help us navigate earthly and celestial tides." —Catherine Barnett


Praise for the work of Mark Yakich:

"Zooming between fictive social scenarios and a fissured inner life, stationed between hermetic solitude and the impasses of desire (for sex, connection, understanding, for a good joke), these poems jumpstart the lyric, blasting it out of stalled pathos, reving it up for all manner of uses—narrative, comic, elegiac, erotic." —Maureen M. McLane, Chicago Tribune