The Conflict of Laws (Paperback)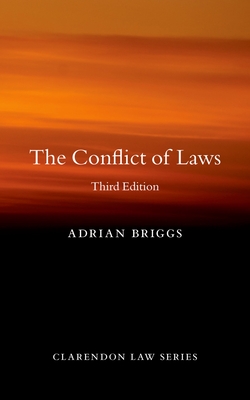 Description
---
Adrian Briggs' invaluable introduction to the study of the conflict of laws provides a survey and analysis of the rules of private international law as they apply in England.
The volume covers general principles, jurisdiction, and the effect of foreign judgments; choice of law for contractual and non-contractual obligations, the private international law of property, of persons, and of corporations. It does so in a manner which explains and illuminates the principles which underpin the subject in a clear and coherent fashion, as the wealth of literature, case law, and legislation often obscures the architecture of the subject and unnecessarily complicates study. This new edition organizes its material in light of European legislation on private international law, reflecting the shift towards understanding private international law as European law with a common law background instead of common law with European legislative influences. The author's approach is focused on the law and avoids the more abstract theory; as the theory of the conflict of laws is actually to be found in and by applying the legislation and jurisprudence to the cases and issues which arise in private international litigation and legal advice.
About the Author
---
Adrian Briggs is Professor of Private International Law, University of Oxford, and a Fellow at St Edmund Hall. He is a barrister practicing in international private law at Blackstone Chambers. He is part of a team of specialist editors assisting Lord Collins of Mapesbury with Dicey, Morris & Collins, The Conflict of Laws, and is the author of numerous works including Civil Jurisdictions and Judgements (5th edition 2009, with Peter Rees).