Chicago's Urban Nature: A Guide to the City's Architecture + Landscape (Paperback)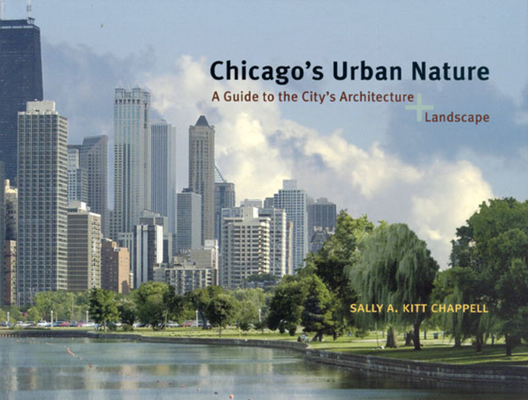 $33.40
Email or call for price
Description
---
Chicago—whose motto is "City in a Garden"—is currently at the forefront of a global movement to end the division between town and country. In Chicago's Urban Nature, Sally A. Kitt Chappell provides a beautifully illustrated guide to the city's stunning blend of nature and architecture.

At the heart of this new urban concept is the idea of connection, bringing buildings and landscapes, culture and nature, commerce and leisure into an energetic harmony. With Chicago's Urban Nature in hand, you'll see those connections woven through the fabric of the city. Chappell provides new insights into such historic Chicago sites as Jens Jensen's Garfield Park Conservatory, Frederick Law Olmsted's Jackson Park, and Alfred Caldwell's Lily Pond, then takes us to the innovative contemporary green spaces they influenced, from City Hall's rooftop garden to the North Lawndale Green Youth Farm to Chicago's heralded new Millennium Park. These beautiful green spaces, with their unprecedented melding of art, architecture, and ecology, have become far more than places of escape for Chicagoans—they're now fully integrated into the urban scene, an essential part of the cultural life of the modern city.

Packed with maps and recommended tours, and bursting with splendid photos, this is an essential guidebook for day-trippers, lifelong Chicago residents, and professionals in landscape architecture, urbanism, and design.
About the Author
---
Sally A. Kitt Chappell was professor of art and architecture at DePaul University. A contributor to the New York Times and other periodicals, she was also the author of the award-winning Architecture and Planning of Graham, Anderson, Probst, and White, 1912–1936 and Cahokia: Mirror of the Cosmos, both published by the University of Chicago Press.
Praise For…
---
"Chicago is the city meant to be looked at. Justifying that with inspiring clarity, this book surveys the urban vistas as the aesthetic unity of architecture and landscape—and raises the guidebook to new heights of the genre."
— William Conger, artist and professor emeritus, Northwestern University
"Sally A. Kitt Chappell's
Chicago's Urban Nature
is a must-read book about Chicago's renowned landscape heritage, from its famed parks and urban plazas to public gardens, campuses, and cemeteries. The book is conveniently broken down into neighborhoods, many of which can be visited on foot. It will go a long way to sharing the urban treasures of this architecturally rich city."
— Judith B. Tankard, author and landscape historian, Landscape Institute, Harvard University
"Park by park, Sally Kitt Chappell celebrates Chicago's remarkable green infrastructure.  This paean to urban nature is both a guide and a manifesto urgently promoting an ethic of civic stewardship."
— Elizabeth Barlow Rogers, president, Foundation for Landscape Studies
"It's about time! Move over Burnham, Sullivan and Wright and make room for Olmsted, Jensen and Caldwell. Hats off to Sally Kitt Chappell who reveals, celebrates and knits together the landscape architectural legacy of Chicago. I can't wait to revisit these landscapes with this guidebook in hand."
— Charles A. Birnbaum, founder and president, The Cultural Landscape Foundation
"Noted local historian Sally A. Kitt Chappell connects Chicago's forefathers—those who granted it the nickname 'City in a Garden'—with the living eco-visionaries who gave us green roofs and Millennium Park."
— TimeOut Chicago
"This is a rich book woven with many unexpected strands: gorgeous new photos and historic images; hidden places around the city alongside fresh insights on the familiar ones; maps and background pieces, along with captions and essays. It ambitiously considers both architecture and landscape, not simply as two related topics but as proof of the thesis that architecture and landscape uniquely merged in nineteenth-century Chicago. That merger is a dynamic process, and Campbell is unafraid to make contemporary observations. Note to Chicago's Olympic Committee:  Here is Exhibit A for Chicago's status as a global city with long experience in welcoming the world."
— Gary T. Johnson, President, Chicago History Museum
"Sally A. Kitt Chappell's personal response to Chicago's built environment, and her enthusiasm for the city, informed by her years of highly regarded scholarly research, is infectious, making this a book you can't put down. . . . [Chappell's] insights signify a long overdue shift in the architectural history community from viewing landscape as mere background to seeing it in its proper perspective as equal partner to architecture. . . . A beautifully designed book, a tactile and visual pleasure."
— Barbara Geiger