Cultural Map of Wisconsin: A Cartographic Portrait of the State (Sheet map, folded)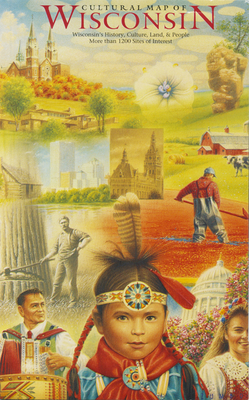 $15.15
Email or call for price
Description
---
    This extraordinary map, the first of its kind created for any state, is a wonderful way to discover the history, culture, land, and people of Wisconsin. Nearly 1500 points of interest are located on the map, including the sites of Laura Ingalls Wilder's Little House in the Big Woods near Pepin, the World's Largest Fish Fry at Port Washington, John Muir's boyhood farm near Montello, the Honor the Earth Pow Wow at Lac Court Oreilles, the nation's first kindergarten in Watertown, Hoard's Dairy Shrine in Fort Atkinson, the Pabst Mansion in Milwaukee, the great Peshtigo Fire, the Green Bay Packer Hall of Fame, and hundreds of other fascinating places.
    The front of the map shows the entire state—topography, roads, waterways, historic sites and historical markers, archaeological areas, physical features and landscapes of cultural significance, notable architecture, areas of ethnic and religious importance, historic communities, festivals and fairs, lighthouses, museums and tours, colleges, parks and recreational trails, rustic roads, and places with celebrated literary, musical, and artistic connections. The back shows many more sites of interest on smaller cultural maps of sixteen cities. All the maps incorporate a shaded relief background that displays Wisconsin's rich variation in land forms, making it possible to see how local cultures are inextricably linked to regional landscapes. Six small thematic maps emphasize this linkage and show historical changes in vegetation, population patterns, and local economies.
Inset Maps for 16 Cities
Appleton, Eau Claire, Fond du Lac, Green Bay, Janesville/Beloit, Kenosha/Racine, La Crosse, Madison, Manitowoc, Milwaukee county including Waukesha, downtown Milwaukee, Oshkosh, Sheboygan, Stevens Point, Superior, Wausau
6 Theme Maps
Native American Cultures from Pre-contact to the Present, Patterns of Euro-American Settlement, Regions of Euro-American Culture, Economic Regions, Physical Geography and Glacial Processes, Vegetation in the 19th Century & late 20th Century
Site Key
Included with the map is a 16-page booklet with a key to the numbered symbols on the map.
About the Author
---
David Woodward is the Arthur H. Robinson Professor of Geography at the University of Wisconsin–Madison and editor of the History of Cartography project. Robert Ostergren is professor of geography at the University of Wisconsin–Madison and author of A Community Transplanted: The Trans-Atlantic Experience of a Swedish Immigrant Settlement in the Upper Middle West, 1835–1915. Onno Brouwer is associate director of the Cartographic Laboratory at the University of Wisconsin–Madison. Steven Hoelscher is assistant professor of geography at Louisiana State University and a former research associate in the Department of Geography at the University of Wisconsin–Madison. Josh Hane is project assistant at the Cartographic Laboratory of the University of Wisconsin–Madison.
Praise For…
---
"An open invitation to stop along the way and get acquainted with the past and present."—Margaret Beattie Bogue, author of Around the Shores of Lake Michigan