Easy Street (the Hard Way): A Memoir (Paperback)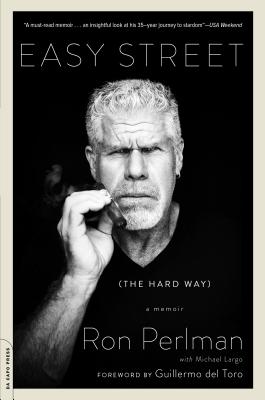 $17.99

Not in stock. Usually arrives in 2-5 Days
Description
---
The engaging, passionate, always-honest, and often-hilarious memoir of actor Ron Perlman--his triumphant story of perseverance and determination navigating the slippery slopes of Hollywood, with a foreword by Guillermo del Toro

Ron Perlman was a kid who had a myriad of self-image issues, yet he triumphed in an industry that trades on image and self-confidence. He landed a leading role in Quest for Fire. He won a Golden Globe for Beauty and the Beast. And he played the title role in two Hellboy movies, becoming along the way an icon among sci-fi and comic book fans worldwide.

Although his name may be unknown to some, most people know Ron Perlman's face, despite the fact that for nearly half his career he's been disguised under feature-altering foam-rubber prosthetics. On his offbeat path to success, Ron has amassed nearly 200 stage, TV, voiceover, and major motion picture credits, including roles in Drive, Pacific Rim, and a six-year gig as the badass biker boss Clay Morrow in Sons of Anarchy.

In Easy Street (the Hard Way), Ron shares his life story, starting with his up-by-your-bootstraps background in New York's Washington Heights. His father, a Swing Era drummer, gave up his dream in order to feed his sons while his mother worked as a municipal clerk. Ron's hard-earned road to Easy Street included bouts of abject poverty, heartbreaking familial episodes, and a long, often uncomfortable struggle for self-acceptance.

He sheds light on his life as a working actor and also offers behind-the-scenes insight into the working styles of internationally famous directors, including Jean-Jacques Annaud, Jean-Pierre Jeunet, and Guillermo del Toro (Hellboy and Academy Award-winning Pan's Labyrinth). He provides his own peek into Hollywood, up close and personal, where he has encountered the likes of Marlon Brando, Sean Connery, Frank Sinatra, Sammy Davis, Jr., and others. Plus, he turns his eye on the trajectory of American culture--the good and the bad--as observed by a man who started out in a mom-and-pop world where the arts were disseminated by individuals rather than corporations.

Easy Street (the Hard Way) will inspire anyone who has ever dared to dream and offers a roadmap to the next generation of dreamers.
About the Author
---
Ron Perlman is best-known for his titular role in the Hellboy movies and his long run on the TV series Sons of Anarchy, as well as scores of other iconic performances, including The Name of the Rose, City of Lost Children, and Pacific Rim. He won a Golden Globe for his role in Beauty and the Beast and is a star and executive producer of the Amazon series Hand of God. Perlman lives in Los Angeles.

Michael Largo is the author of seven bestselling reference books, including God's Lunatics, Genius and Heroin, The Portable Obituary, and the Bram Stoker Award-winning Final Exits: The Illustrated Encyclopedia of How We Die. Largo is the former editor of New York Poetry and the researcher/archivist for the film company Allied Artists. A native New Yorker, he currently lives in Miami.