Tell It Like It Is: My Story (Hardcover)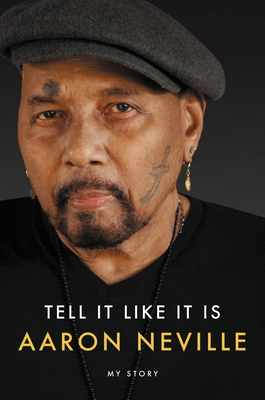 Description
---
For the first time, legendary singer and songwriter and Grammy Hall-of-Famer Aaron Neville tells his personal story of overcoming poverty, racism, addiction, and loss through faith, family, and music.

Aaron Neville's first #1 hit, "Tell It Like it Is," was released in 1966. In the mid-70s he formed the Neville Brothers with Art, Charles, and Cyril—now known as the "First Family of New Orleans"—and they released more than a dozen influential albums. Given his one-of-a-kind, soaring falsetto, Aaron was the breakout star, and over the next six decades, he had four platinum albums, three  #1 songs, numerous film and television appearances, and was inducted into the Grammy Hall of Fame in 2014. His triple-platinum duets with Linda Ronstadt (including the Grammy-Award-winning hit "I Don't Know Much") showcased the softer side of his voice, and the smoking hot funky soul of the Neville Brothers cemented his legacy as an R&B legend.

But few people know the challenging and circuitous road Aaron took to fame. Born in a housing project in New Orleans of Black and Native American heritage, Aaron struggled as a teenage father working to raise a family while building his career as a musician, surviving a stint in jail for car theft and many years battling heroin addiction.

​Recognized by the dagger tattoo on his cheek and his St. Jude medallion earring, Neville credits St. Jude—the patron saint of lost cases—for turning his life around. He found healing and salvation in music. Aaron Neville is a man who by all accounts should not have made it. Tell It Like It Is shares his story for the first time.
About the Author
---
Born and raised in New Orleans, Aaron Neville began his musical career in the incredibly creative 1950s Crescent City R&B scene. Working with Allen Toussaint, he recorded his first #1 hit, the stirring ballad "Tell It Like It Is," in 1966. In the mid-70s, he began performing with his brothers—Art, Charles and Cyril—as the Neville Brothers, with the release of their debut self-titled album in 1978. Known as the first family of New Orleans music, the Neville Brothers released over a dozen influential albums and regularly closed out the world-renowned New Orleans Jazz & Heritage Festival. The band's accolades include three Grammy nominations, as well as the 1990 Grammy for Best Pop Instrumental Performance for "Healing Chant," and in 2017, the group was inducted into the Austin City Limits Hall of Fame.

Alongside his work the Neville Brothers, Aaron sustained a successful solo career accumulating a number of awards and accolades including five Grammy awards from 14 nominations. Today, Neville has had three singles in the Billboard Top 10 on the Hot 100 chart, three #1 hits on the Adult Contemporary chart, and "Tell It Like It Is" made it to Rolling Stone's list of the 500 Greatest Songs of All Time and was inducted into the Grammy Hall of Fame in 2014. A lifelong devout Catholic, Neville received the University of Notre Dame's Laetare Medal, the oldest and most prestigious honor given to American Catholics, in 2015.

After a lifetime in New Orleans, Aaron Neville now lives in Duchess County, NY.
Praise For…
---
"When Aaron Neville sings he is the mightiest of Archangels. The truth he's written in these pages is no less powerful. He tells his riveting story with all the triumphs and sorrows, joys and frustrations he has experienced in his eight decades of life."—Linda Ronstadt

"[Neville] leaves readers sharing his conviction that his life has been something of a miracle and that 'my voice was my salvation.'...The author's life has been an inspiration….A worthwhile musical survivor's story."—Kirkus

"A gratifying, spiritual, and hopeful against-all-odds memoir. An essential read for both Neville fans and those who may be unfamiliar with his music."—Library Journal

"… iconic New Orleanian, platinum-record singer and songwriter Aaron Neville, a Grammy Hall of Famer… candidly reveals his little-known personal and professional struggles."—Booklist