The Year of Magical Thinking: A Play by Joan Didion Based on Her Memoir (Vintage International) (Paperback)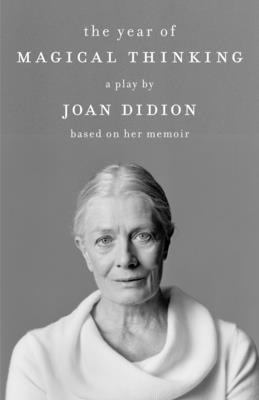 $13.95

Not in stock. Usually arrives in 2-5 Days
Description
---
In this dramatic adaptation of her award-winning, bestselling memoir, Joan Didion transforms the story of the sudden and unexpected loss of her husband and their only daughter into a stunning and powerful one-woman play.

"This happened on December 30, 2003. That may seem a while ago but it won't when it happens to you...." 

Michiko Kakutani in The New York Times called the memoir that was the basis for the play, "an indelible portrait of loss and grief ... a haunting portrait of a four-decade-long marriage."

The first theatrical production of The Year of Magical Thinking opened at the Booth Theatre on March 29, 2007, starring Vanessa Redgrave and directed by David Hare.
About the Author
---
JOAN DIDION was born in Sacramento in 1934 and graduated from the University of California, Berkeley, in 1956. After graduation, Didion moved to New York and began working for Vogue, which led to her career as a journalist and writer. Didion published her first novel, Run River, in 1963. Didion's other novels include A Book of Common Prayer (1977), Democracy (1984), and The Last Thing He Wanted (1996).
 
Didion's first volume of essays, Slouching Towards Bethlehem, was published in 1968, and her second, The White Album, was published in 1979. Her nonfiction works include Salvador (1983), Miami (1987), After Henry (1992), Political Fictions (2001), Where I Was From (2003), We Tell Ourselves Stories in Order to Live (2006), Blue Nights (2011), South and West (2017) and Let Me Tell You What I Mean (2021). Her memoir The Year of Magical Thinking won the National Book Award for Nonfiction in 2005.
 
In 2005, Didion was awarded the American Academy of Arts & Letters Gold Medal in Criticism and Belles Letters. In 2007, she was awarded the National Book Foundation's Medal for Distinguished Contribution to American Letters. A portion of National Book Foundation citation read: "An incisive observer of American politics and culture for more than forty-five years, Didion's distinctive blend of spare, elegant prose and fierce intelligence has earned her books a place in the canon of American literature as well as the admiration of generations of writers and journalists." In 2013, she was awarded a National Medal of Arts and Humanities by President Barack Obama, and the PEN Center USA's Lifetime Achievement Award.

Didion said of her writing: "I write entirely to find out what I'm thinking, what I'm looking at, what I see and what it means." She died in December 2021.
Praise For…
---
"Her book is thrilling ... a living, sharp, memorable book ... An exact, candid, and penetrating account of personal terror and bereavement ... sometimes quite funny because it dares to tell the truth." —Robert Pinsky, The New York Times Book Review

"An act of consummate literary bravery, a writer known for her clarity allowing us to watch her mind as it becomes clouded with grief ... It also skips backward in time [to] call up a shimmering portrait of her unique marriage ... To make her grief real, Didion shows us what she has lost." —Lev Grossman, Time

"I can't think of a book we need more than hers ... I can't imagine dying without this book." —John Leonard, New York Review of Books

"Achingly beautiful ... We have come to admire and love Didion for her preternatural poise, unrivaled eye for absurdity, and Orwellian distaste for cant. It is thus a difficult, moving, and extraordinarily poignant experience to watch her direct such scrutiny inward." —Gideon Lewis-Kraus, Los Angeles Times

"Stunning candor and piercing details ... An indelible portrait of loss and grief ... [A] haunting portrait of a four-decade-long marriage." —Michiko Kakutani, The New York Times