Lidia's Favorite Recipes: 100 Foolproof Italian Dishes, from Basic Sauces to Irresistible Entrees: A Cookbook (Hardcover)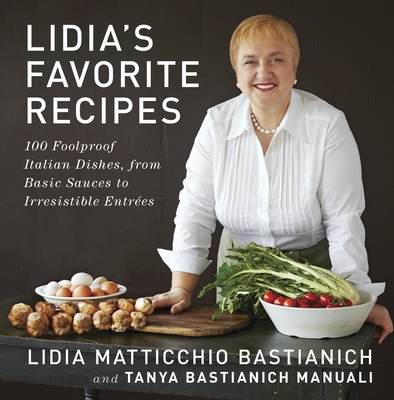 $26.95

Not in stock. Usually arrives in 2-5 Days
Description
---
The beloved chef presents her most accessible and affordable cookbook to date, a gathering of more than 100 Italian recipes that have become Lidia's go-to meals for her very own family—the best, the most comforting, and the most delicious dishes in her repertoire.

     In Lidia's Favorite Recipes, you'll find a fresh take on more than 100 of Lidia's signature and irresistibly reliable dishes, including:

·         Fried Mozzarella Skewers—Spiedini alla Romana
·         Escarole and White Bean Soup—Zuppa di Scarola e Cannellini
·         Ziti with Broccoli Rabe and Sausage—Ziti con Broccoli Rabe e Salsicce
·         Baked Stuffed Shells—Conchiglie Ripiene al Forno
·         Eggplant Parmigiana—Melanzane alla Parmigiana
·         Savory Seafood Stew—Zuppa di Pesce  
·         Chicken Cacciatore—Pollo alla Cacciatore        
·         Veal Ossobuco with Barley Risotto—Ossobuco di Vitello con Risotto d'Orzo
·         Cannoli Napoleon—Cannolo a Strati      
·         Limoncello Tiramisù—Tiramisù al Limoncello

From the classic sauces to the delicious desserts, these recipes have been revised and updated to be more concise and clear, but just as soul-satisfying as ever. With new information about the affordability, seasonality, and nutritional value of the ingredients, this book shows there is no question why these dishes are the easiest and most enjoyable to bring to the family table for your most memorable moments. Beautifully illustrated throughout with full-color photographs, Lidia's Favorite Recipes will give both new cooks and longtime fans something extraordinary to celebrate. 
About the Author
---
LIDIA MATTICCHIO BASTIANICH is the author of eight previous cookbooks, five of which have been accompanied by nationally syndicated public television series. She is the owner of the New York City restaurant Felidia, among others, and she gives lectures on Italian cuisine throughout the country. She lives on Long Island, New York.

TANYA BASTIANICH MANUALI received her PhD in Renaissance art history from Oxford University. In 1996 she started Esperienze Italiane, a travel company that arranges food, wine, and art tours to Italy. She also coauthors cookbooks with her mother, Lidia; manages Lidia's product line; and serves as the cultural and art consultant for the art series. She lives on Long Island, New York.