Write More Good: An Absolutely Phony Guide (Paperback)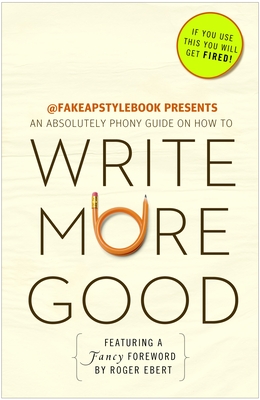 $16.38
Email or call for price
Description
---
Still clinging to your dog-eared dictionary? So attached to The Elements of Style that you named your rabbits Strunk and White? Maybe you're a beleaguered reporter, or a type-A newspaper reader who unwinds by e-mailing the editor about whether "tweet" is a verb?

It's time to face up to reality: Writing clearly, checking facts, and correcting typos are dying arts. Whether you're a jaded producer of media or a nitpicking consumer of it, this book will help you to embrace, not resist, the lowering of standards for the written word!

Part dictionary, part journalism textbook, part grammar and writing manual, Write More Good is a "comprehensive" "guide" to today's "media," in all its ambulance-chasing, story-fabricating, money-hemorrhaging glory. (LEGAL DISCLAIMER: The authors are not responsible for consequences that may result from actually using this book as a dictionary, textbook, or grammar and writing manual.)

Let The Bureau Chiefs, the ritin' and reportin' geniuses behind the Twitter phenomenon @FakeAPStylebook, teach you about:

* Proper usage!
"World War" should be used only for conflicts involving countries on at least three continents. For large-scale battles against clones, killer tomatoes, or a fifty-foot woman, use "attack" instead.

* Entertainment Journalism!
When writing about a celebrity for an online audience, save your readers time by linking directly to nude photos of him or her.

* Science Reporting!
When writing about those robots that seek out and consume houseflies for energy, the parenthetical aside "(OH GOD, WE'RE DOOMED!)" is implied and is therefore not necessary to include in your story.

And much, much, more!
About the Author
---
THE BUREAU CHIEFS count among their number journalists, artists, a librarian,
an English professor, even a lawyer (affirmative action!). Ken Lowery and Mark
Hale are the founders of the Twitter feed @FakeAPStylebook, which they and the
Bureau Chiefs update several times a day.
Praise For…
---
"The book in my hands just might be the least useful writing aid ever compiled…But then, of course, that's exactly the point…Pull[s] apart words and sentences with a strange blend of cleverness and sophomoric humor…A lot of writers and editors have little reason to laugh these days; thank goodness we've got something here."
—NewYorker.com

"Anyone who has ever searched for le mot juste will laugh — what's the word? — hysterically...Write More Good makes the death of journalism funnier than it has any right to be (while potentially hastening it along)."
—NPR

"Succeeds both as one funny book and also as a crash course in how to get fired from any job requiring you to submit writing for publication...Readers who enjoy humor in the vein of The Onion will love this book, a kind of unholy love child of William Strunk Jr. and E.B. White's The Elements of Style and The Daily Show...For those who like their humor with a little bite."
—Library Journal (starred review)

"It's a brain-exploding mix of Dave Barry meets Borowitz meets the original AP Stylebook, and while the results aren't always pretty, they are pretty funny."
—Tom Chandler, The Writer Underground

"Write More Good aims to embrace the lowering standards of the written word. It's so funny I could cry."
—Chron.com (Houston Chronicle)

"I would like to praise the authors for not doing what anyone else in the Internet Age would have done, which is simply cutting and pasting together a slew of tweets, calling it a book, and raking in the dough from Old Media."
—Roger Ebert

"Write More Good is your AP Stylebook unshaven and hungover after the latest round of media layoffs. Editors, writers, and sticklers will enjoy the satire, but the poop jokes are for everyone."
—Jeff Deck, coauthor of The Great Typo Hunt: Two Friends Changing the World, One Correction at a Time
 
"You can read Write More Good simply for laughs: Its expanded hits of @FakeAPStylebook wit and humor will have you reading it aloud to cubicle neighbors. But if you aspire to truly great writing—whether you're a hopeful author, a professional editor, or a celebrity who just pays someone—well, you're definitely going to need a different book."
—Carol Fisher Saller, author of The Subversive Copy Editor