Who Killed These Girls?: The Unsolved Murders That Rocked a Texas Town (Mass Market)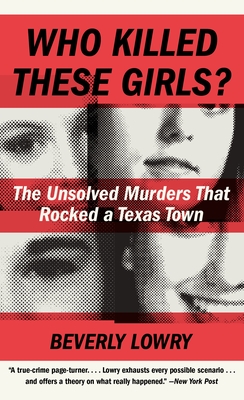 $8.99

Not in stock. Usually arrives in 2-5 Days
Description
---
"A true-crime page-turner.... Lowry exhausts every possible scenario behind the shocking, unsolved quadruple murder ... and offers a theory on what really happened." —New York Post

"Gripping, moving, and as good as any depiction of a murder case since In Cold Blood.... Brilliant." —Ann Patchett, award-winning, bestselling author

The facts are brutally straightforward. On December 6, 1991, the naked, bound-and-gagged, burned bodies of four girls—each one shot in the head—were found in a frozen yogurt shop in Austin, Texas.

Grief, shock, and horror overtook the city. But after eight years of misdirected investigations, only two suspects (teenagers at the time of the crime) were tried; their convictions were later overturned and detectives are still working on what is now a very cold case. The story has grown to include DNA technology, coerced false confessions, and other developments in crime and punishment.

But this story belongs to the scores of people involved, and from them Beverly Lowry has fashioned a riveting saga that reads like a novel, heart-stopping and thoroughly engrossing.


About the Author
---
BEVERLY LOWRY is the author of six novels and three previous works of nonfiction. Her writing has appeared in the The New Yorker, The New York Times, The Boston Globe, Vanity Fair, Rolling Stone, Mississippi Review, Granta, and many other publications. She has received awards from the National Endowment for the Arts, the Guggenheim Foundation, the Texas Institute of Letters, and the Mississippi Institute of Arts and Letters. She lives in Austin, Texas.
Praise For…
---
"Gripping, moving, and as good as any depiction of a murder case since In Cold Blood. . . . This transcends the genre. Brilliant." —Ann Patchett

"A true-crime page-turner. . . . Lowry exhausts every possible scenario behind the shocking, unsolved quadruple murder . . . and offers a theory on what really happened." —New York Post

"Deeply compassionate . . . An agonizing portrait. . . . We're fortunate to have [Lowry] as our investigator, our cultural historian, our mourner." —Austin Chronicle

"Heartfelt. . . . Chillingly concise. . . . Lowry works the case from a human rather than a forensic angle."—The New York Times Book Review

"A page turner. . . . A very real reminder that horror isn't just a fictional genre. . . . Lowry lets no detail escape her literary light. . . .These murders shook a city and are sure to haunt you long after you set the book aside." —Bust

"A story of pain and loss, and how one heinous act that takes four lives … destroys so many others. . . . In its swift pacing, intimate peeks into the characters' lives, and deep research and reportage, Who Killed These Girls? features everything we wish for in a book about an event we wish had never happened." —Los Angeles Review of Books
 
"Gripping . . . well-researched and thought provoking. . . . A terror-filled thrill ride which is captivating from start to finish." —New York Journal of Books

"Beverly Lowry is rapidly becoming the Zola of Central Texas. Her character studies only get better." —Larry McMurtry