The Greek Vegetarian: More Than 100 Recipes Inspired by the Traditional Dishes and Flavors of Greece (Paperback)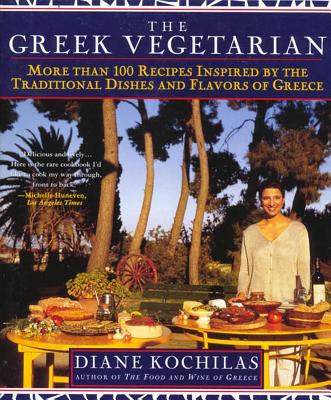 $26.99

Not in stock. Usually arrives in 2-5 Days
Description
---
Greek cooking offers a dazzling array of greens, beans, and other vegetables-a vibrant, flavorful table that celebrates the seasons and regional specialties like none other.

In this authoritative, exuberant cookbook, renowned culinary expert Diane Kochilas shares recipes for cold and warm mezes, salads, pasta and grains, stews and one-pot dishes, baked vegetable and bean specialties, stuffed vegetables, soup, savory pies and basic breads, and dishes that feature eggs and greek yogurt. Heart-Healthy classic dishes, regional favorites, and inspired innovations, The Greek Vegetarian pays tribute to one of the world's most venerable and healthful cuisines that play a major component in the popular Mediterranean Diet.
About the Author
---
DIANE KOCHILAS, celebrity chef, award-winning cookbook author, and cooking school owner, has been at the forefront of bringing healthy, delicious Greek cuisine to a wide international audience for many years. She is the host and co-executive producer of My Greek Table, a 13-part cooking-travel series about Greece and Greek cuisine airing nationally on Public Television. She runs the Glorious Greek Cooking School on her native island, Ikaria.
Praise For…
---
"This is the loveliest cookbook imaginable, full of splendid recipes and lore, and moreover just shining with Diane Kochila's intelligent passion for the cuisines of Greece." —Nancy Harmon Jenkins, author of The Mediterranean Diet Cookbook

"The Greek Vegetarian is an important book, because it brings together a broad spectrum of vibrant, healthy, delicious dishes. Diane Konchilas manages to cover a lot of Greek territory here, yet she never leaves us behind." —Martha Rose Shulman, author of Mediterranean Light and Mexican Light

"A gifted storyteller and inspired cook, Diane Konchilas has brought the heart, soul, and spirit of the Greek table to us. The recipes are both mouthwatering and simple to prepare. I love this book." —Marie Simmons, author of Rice, the Amazing Grain and Fresh & Fast