How to Look Hot in a Minivan: A Real Woman's Guide to Losing Weight, Looking Great, and Dressing Chic in the Age of the Celebrity Mom (Hardcover)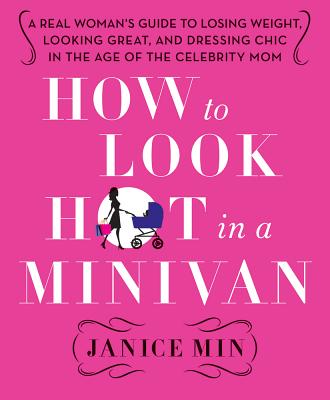 Description
---
In 2003, as the newly named editor in chief of Us Weekly magazine, Janice Min was busy documenting a seismic cultural shift: the making of the "Hollywood Mom." Think Angelina Jolie, Victoria Beckham, Halle Berry, and Beyoncé—stars who proudly displayed their pregnancies, shed the baby weight overnight, and helped turn the once-frumpy bump industry into seriously big business. In the blink of an eye, it seemed, "skinny jeans" had replaced "mom jeans." Bugaboos had become status symbols. Motherhood itself had become an exciting style statement. And then—just eight weeks after her big promotion—Janice discovered that she was pregnant, too.
"I started ogling, with morbid fascination, the photographs that flooded my office—red-carpet and paparazzi shots of celebrities in bikinis and bandage dresses mere weeks after giving birth," she writes. "I'd stare at my own ever-expanding body. Then I'd stare at Heidi Klum (who gave birth one month before my due date and managed to bounce back before I'd even hit the delivery room). How did these women do it? I wondered." How to Look Hot in a Minivan was born.
With her trademark self-deprecating style and tongue-in-cheek humor, Janice set out to debunk some of Hollywood's biggest mommy myths. Then she brought together the industry's biggest experts in fitness, fashion, beauty, and all-things-baby to divulge the secrets behind the stars' seemingly effortless postpartum style. Serving up practical, honest, and often surprising advice for new moms everywhere, Janice and her arsenal of experts reveal:
• The 10 Wardrobe Essentials every chic mom should own
• How to style red carpet-worthy hair, even on school days
• The secrets to hiding a postnatal stomach pooch
• The truth behind the C-tuck (Do celebrity moms sometimes slim down courtesy of a combination cesarean section-tummy tuck?)
• Hollywood's Biggest Losers (What did it really take for stars like Kate Hudson, Milla Jovovich, and Poppy Montgomery to lose the baby weight?)
In How to Look Hot in a Minivan, Min dispels the idea that looking great post-pregnancy is only for the rich, the pampered, and the lucky. With Min's guilt-free, stay-sane strategies, moms everywhere can look and feel like stars—whether their baby is six months or sixteen years.
About the Author
---
JANICE MIN has been profiled in The New York Times and Elle for her makeover of The Hollywood Reporter. As the editor of US Weekly for six years she doubled the magazine's audience to 13 million and it garnered publishing's highest honors, including Advertising Age's Magazine of the Year and AdWeek's Editor of the Year. Min was named one of the New York Post's Most Powerful Women, described as having an "Oprah-esque power over celebrity culture" by the Seattle Post-Intelligencer, and is an in-demand expert for The Today Show, CNN, ET, Good Morning America, and other national outlets. She is married and the mother of two children.
Praise For…
---
"Janice really pulled together the best Hollywood tips and tricks for all of us moms to laugh at and learn from. Whether you have one child or four, there is definitely something for you in here!" —Heidi Klum
"Min's familiar tone makes the book read like a girlfriends' chat after mommy and me class. She shares personal stories about her pregnancy, postpartum and parenting issues -- from muffin tops to working-mother guilt -- with refreshing honesty, candor and humor. It's no surprise the book is reminiscent of a lifestyle magazine filled with stunning celebrity photos, but Min's style is engaging and she provides useful advice for regular moms. "If it were your full time job to look ... glamorous -- and you had all the money in the world -- you could probably look like an A-lister too. But this is real life ... we have to start aiming for goals that are actually attainable," she says. " —Associated Press
"[Janice] shares advice for looking glamorous after baby, along with plenty of self-deprecating humor, and tips from doctors and experts in beauty, fashion and fitness. " —Time.com
"A clever, honest, and practical guide to motherhood. J.Lo, Gwyneth, and the rest enjoy the aid of trainers and makeup artists; Min has gathered advice from the experts and experiences of celeb-world (whether or not we believe Jessica Alba struggled with postbaby weight, it's reassuring to read about it) for our benefit. The result: a trove of info ranging from nutrition tips to how to dress for every occasion. Min, a mother of three, makes clear that while we can't all be Angelina Jolie, we're all--silver-screen siren or suburban mom--united in our quest for nonugly diaper bags. " —Elle Magazine
"[How to Look Hot in a Minivan] is filled with a lot of great tips…it's a terrific book" —Kathy Lee and Hoda on The Today Show
"As a mother I was laughing through everything [in the book]! " —Kit Hoover, Access Hollywood
"A very funny and yet very frank take on what it means to become a mother…get the book! " —E! News
"[How to Look Hot in a Minivan] offers a much-needed sense of humor about what really happens post-bump. " —SELF magazine
"Filled with awesome tips (like how to have celebrity-worthy hair, even on school days), this book will become your new best friend. " —mom.me
"She divulges the inside info, from the perspective of a less than perfect real mom of three. She's a great writer and includes many personal stories of her own pregnancy and parenthood experiences that are extremely relatable– from the time someone asked when she was due weeks after the baby was born… to the guilt of working motherhood…The book offers valuable advice in a funny, easy way with a message of being good to yourself. It would make a great gift for new moms as it's filled with stories that most people won't tell you when you're pregnant (stretch marks, hair loss, cellulite!) Somehow Min breaks it to them gently, with lots of pretty celebrity photos." —Carpoolcandy.com