Christopher Kimball's Milk Street: The New Home Cooking (Hardcover)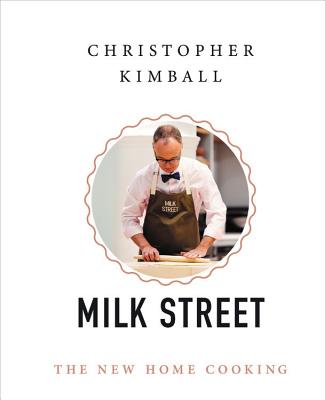 Description
---
One of the New York Times Book Review's Best Books of the Year: Change the way you cook with easy new techniques and simple, healthy recipes from a "revolutionary" culinary trailblazer (Houston Chronicle).

For more than twenty-five years, Christopher Kimball has delivered delicious and easy recipes for home cooks. Now, with his team of cooks and editors at Milk Street, he promises that a new approach in the kitchen can elevate the quality of your cooking far beyond anything you thought possible.

Christopher Kimball's Milk Street, the first cookbook connected to Milk Street's public television show, delivers more than 125 new recipes full of timesaving cooking techniques arranged by type of dish: from grains and salads to simple dinners and twenty-first-century desserts.

At Milk Street, there are no long lists of hard-to-find ingredients, strange cookware, or all-day methods. Deliver big flavors without learning a new culinary language with these mouthwatering dishes: Skillet-Charred Brussels sprouts, Japanese fried chicken, Rum-soaked chocolate cake, Thai-style coleslaw, Mexican chicken soup

These recipes are more than delicious. They teach a simpler, bolder, healthier way to cook that will change your cooking forever. And cooking will become an act of pure pleasure, not a chore.

Welcome to the new home cooking. Welcome to Milk Street.
About the Author
---
Christopher Kimball's Milk Street is located in downtown Boston -- at 177 Milk Street -- and is home to a cooking school, a bimonthly magazine, and public television and radio shows. They are the authors of Milk Street: The New Home Cooking, Milk Street: Tuesday Nights, which won both the IACP and James Beard Awards for General Cooking, and Milk Street: The New Rules.
Praise For…
---
One of the Best Books of the Year - NPR, New York Times Book Review

"Bound to cause his fans to rejoice... even though its production values may be in the coffee-table league--a full-color image appears opposite every recipe--this book is designed for hard, occasionally sloppy, countertop duty. Recipes and accompanying photographs are contained on a single two-page spread, meaning that there isno frustrating flipping back and forth... The book fulfills its promise of sourcing the world's cuisines in search of flavor bombs that are made easy to produce in American kitchens."—The Wall Street Journal

"The book is so beautiful... I can't wait to try it."—Rachael Ray

"Overall gold... You already know and trust him from his years leading the way on America's Test Kitchen. Now, he's adding a different kind of spice to life... through his recipes and his research, he aims to connect us all."—Tasting Table

"This approachable book compiles an array of global recipes that are bold in flavor, yet simple enough for the home cook. Try the mouth-watering soups, such as Spicy Red Lentil Stew and Spanish Garlic. And be sure to pay attention to the technical tips along the way."—RealSimple

"Geeky gourmands will find Milk Street to be mandatory reading... Cultures collide on plates [and] layered spices unleash flavors just as well as slow cooking unlocks them."—Boston Herald

"All the recipes offer the reliability that Kimball is famous for, and there are lists of pantry staples and cooking tips included with some recipes to help readers get dinner on the table with ease...Egg dishes go from a simple scramble cooked in olive oil to curry braised eggs that promise to reinvent breakfast, and possibly dinner. Vegetable recipes are particularly interesting... [and] Kimball's fans will be pleased with this latest cookbook."—Publishers Weekly

"New, exciting, and revolutionary... with recipes that reflect the multicultural world we live in, Christopher Kimball's Milk Street: The New Home Cookingembraces global flavors with a fervor... [its] smart, encompassing recipes... [are] game-changing."—Houston Chronicle

"Fans...will find much to love in Kimball's... approach here, explaining the whys and hows of recipe revisions to consistently produce the best results at home... Overall, with its testing notes, short ingredient lists, and firm directions (each recipe has a "don't" section), this volume is a trustworthy and easy-to-use collection of international flavorsfrom one of the nation's best cooking teachers."—Booklist

"As the leader of an elite squad of talented recipe doctors, Kimball tossed aside inherited cooking truisms in favor of insights... earned through countless hours clocked in the, yep, test kitchen."—Epicurious

a "brand-new title that's going to make you love being in the kitchen."—Library Journal

"Thankfully, really good."—Adam Gopnik, Grub Street

"Features a vibrant global grab bag of flavors and methods, made accessible for the home cook through more than 125 thoughtful recipes."—Boston Magazine

"The dishes are bold, fresh, and easy to prepare... frees home cooks from thinking they need to know rules or need to be star chefs for their food to be valid."—Atlanta Journal-Constitution

Milk Street "is a story of how the world cooks. Let's join them."—Kate McDonough, The City Kitchen

"I love it. And if you're intrigued by international cooking, you will love it too... The recipes are easy and uncomplicated, but they introduce you to a new way of looking at ordinary dishes."—Donna Maurillo, Santa Cruz Sentinel

"Making simple, healthy, and exciting food is more accessible than ever."—Rewire