The Queen: The Forgotten Life Behind an American Myth (Hardcover)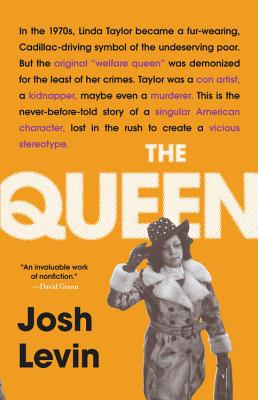 $29.00
Email or call for price
Description
---
Winner of the National Book Critics Circle Award in Biography
In this critically acclaimed true crime tale of "welfare queen" Linda Taylor, a Slate editor reveals a "wild, only-in-America story" of political manipulation and murder (Attica Locke, Edgar Award-winning author).
On the South Side of Chicago in 1974, Linda Taylor reported a phony burglary, concocting a lie about stolen furs and jewelry. The detective who checked it out soon discovered she was a welfare cheat who drove a Cadillac to collect ill-gotten government checks. And that was just the beginning: Taylor, it turned out, was also a kidnapper, and possibly a murderer. A desperately ill teacher, a combat-traumatized Marine, an elderly woman hungry for companionship -- after Taylor came into their lives, all three ended up dead under suspicious circumstances. But nobody -- not the journalists who touted her story, not the police, and not presidential candidate Ronald Reagan -- seemed to care about anything but her welfare thievery.
Growing up in the Jim Crow South, Taylor was made an outcast because of the color of her skin. As she rose to infamy, the press and politicians manipulated her image to demonize poor black women. Part social history, part true-crime investigation, Josh Levin's mesmerizing book, the product of six years of reporting and research, is a fascinating account of American racism, and an exposé of the "welfare queen" myth, one that fueled political debates that reverberate to this day.
The Queen tells, for the first time, the fascinating story of what was done to Linda Taylor, what she did to others, and what was done in her name. "In the finest tradition of investigative reporting, Josh Levin exposes how a story that once shaped the nation's conscience was clouded by racism and lies. As he stunningly reveals in this "invaluable work of nonfiction," the deeper truth, the messy truth, tells us something much larger about who we are (David Grann, #1 New York Times bestselling author of Killers of the Flower Moon).
About the Author
---
Josh Levin is the national editor at Slate and the host of the sports podcast Hang Up and Listen. He previously worked at the Washington City Paper and has written for Sports Illustrated, the Atlantic, GQ, and Play: The New York Times Sports Magazine. He was born and raised in New Orleans and is a graduate of Brown University. He lives in Washington, D.C.
Praise For…
---
Longlisted for the PEN/Jacqueline Bograd Weld Award for BiographyTheRoot's Favorite Reads of 2019 Washington Post's 50 Notable Works of Nonfiction Boston Globe's Best Books of 2019Buzzfeed's Best Books of the YearMother Jones's Favorite Books of 2019The National Book Review's Ten Best Nonfiction Books of the YearStar-Tribune's Best Nonfiction of 2019NPR Code Switch's Holiday Book Guide New York Times Book Review Editor's Choice PickChicago Public Library Best Books of 2019Crimereads's Best True Crime Books of 2019PopSugar's 45 Best Nonfiction Books of 2019Book Riot's 50 Great Books about True Crime Inspired an Esquire Best Podcast of 2019

"A feat of reporting somewhere between true crime and political history"—Jordan Ellenberg's New York Times Book Review, By the Book

"The Queen: The Forgotten Life Behind an American Myth reads like a detective story. Yet it serves up serious and timely questions about the way stereotypes can overpower evidence."—Lisbeth B. Schorr, Washington Post

"Another author would have used the 'welfare queen' as a jumping-off point to explore stereotypes, welfare politics and political rhetoric. Levin addresses all that, but his real goal is to put a face to Reagan's bogeywoman, tracking every alias, every scam, every duped husband and every dodged arrest. He presents Linda Taylor not as a parable for anything grand, but as a singular American scoundrel who represented nothing but herself...Part of the fun of Levin's book is burrowing inside his obsessive quest."—Sam Dolnick, New York Times Book Review

"A deftly drawn, quick-paced police procedural...The Queen is a story of grand scale manipulation, both of Taylor's trail of brazen deceptions but also the role media and politics played in shaping a narrative - making all of us the victims of games of shadows and smoke."—Lynell George, LA Times

"Riveting."—Gene Demby, NPR

"In re-examining the 'welfare queen' myth, Slate's Josh Levin tells a story about racism in America and the oversimplified narratives that still dominate political discourse."—Laura Pearson, Chicago Tribune, 25 Hot Books of the Summer

"Levin's work succeeds at untangling a complex life, both the actual facts of it - no easy task for a woman with dozens of aliases - and what she ultimately came to represent."—Kate Giammarise, Pittsburgh Post-Gazette

"The verve and humor of Levin's writing mirrors the brazenness of the crimes Taylor committed...Taylor is like a one-person, low-rent "Ocean's 11,"and you can't help but marvel at the ingenuity with which she kept it up for decades. Neither can Levin, who ends virtually every chapter with a cliffhanger, tantalizing us with clues to Taylor's next big scam. But there's a bigger, and grimmer, story here, and Levin gives it its due."—Chris Hewitt, Minneapolis Star-Tribune

"Levin tells this story with a forceful combination of empathy and rigor... The Queen is a powerful reminder to ask what stories lie behind the ones that catch the public eye."—Washington City Paper