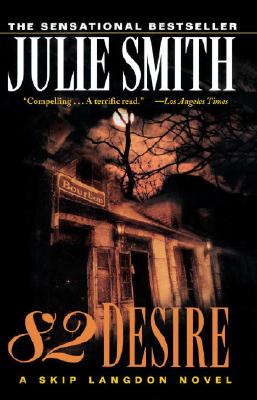 $19.00
Special Order. May not be available. Call the store for details.
Description
---
Though the modern bus has long since replaced the streetcar in New Orleans, Desire is still the meanest street of them all. Now Police Detective Skip Langdon finds herself on its shady side in what at first appears to be a small case with some big names--Councilwoman Bebe Fortier has misplaced her equally prominent husband. Yet Skip soon senses something big starting to unfold. Something rooted in corruption, resulting in violence--and motivated by that old demon . . . desire.

Across town, Talba Wallis has a simple desire of her own--to find out what Russell Fortier's disappearance has to do with her. Wallis is a woman who leads three lives--poet, computer expert, and part-time detective once hired to spy on Fortier. But the private investigator she worked for can't help her out. He's lying in his office with a bullet in his chest.

Reporter Jane Storey is also walking down that mean, sultry street--she's on the brink of the biggest story of her life. But she's got a bad feeling she's being played like a deck of cards.

In fact, all three investigators--cop, private eye, and reporter--sense an unknown (and malevolent) presence pulling strings they cannot see.

Smith's steamy masterpiece is a tale of desire running out of control . . . of corporate greed, a lust for power, and a legacy of misery that only now must be set right--at a cost measured in blood and heartbreak and lives.
About the Author
---
Julie Smith is a former reporter for the New Orleans Times-Picayune and the San Francisco Chronicle. 82 Desire is the eighth Skip Langdon book, the first of which, New Orleans Mourning, won the Edgar Award for Best Novel. Smith lives in the French Quarter with her husband. "From the Paperback edition."
Praise For…
---
"Compelling . . . A terrific read."
--Los Angeles Times

"WITTY AND CHARMING."
--San Francisco Examiner

"PLENTY OF PLOT TWISTS . . . The New Orleans atmosphere and Talba, with her fierce wise poetry, shine. . . . Richly realized and memorable."
--Publishers Weekly

"LANGDON IS A SPLENDID HEROINE."
--People


From the Paperback edition.