School of Phantoms (No Place for Monsters) (Hardcover)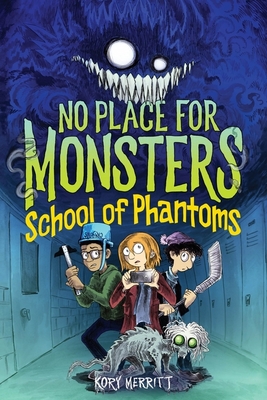 Description
---
In this spine-tingling follow-up to No Place for Monsters, which Diary of a Wimpy Kid author Jeff Kinney called "wildly imaginative and totally terrifying," a group of unlikely friends must band together to protect their town from the monsters that are threatening to destroy it. 

The storm is coming. Who will survive?
It's been months since Levi and Kat defeated the Boojum and rescued their town's forgotten children. But now the strangeness has started again: hundreds of creepy snowmen pop up across town and a bizarre blizzard hits the day before spring break. 
 
Being trapped in the school overnight by freak weather is bad enough. But an evil is lurking . . . one far worse than ice and wind. Worse than power outages. Even worse than being stuck with teachers and annoying classmates. 
 
Something is roaming the darkened school halls. Something . . . hungry. Now it's up to a small group of student survivors—along with some supernatural helpers—to uncover the cold-hearted menace before it takes the entire school. 
About the Author
---
Kory Merritt is a former public school art teacher from western New York who enjoys reading weird stories, looking for strange wildlife, and drawing creepy monsters. In addition to teaching, Kory previously worked as an illustrator for the online game franchise Poptropica and its spin-off book series.
www.korymerritt.com, Facebook: @korymerrittauthor, Twitter and Instagram: @koryjmerritt
Praise For…
---
★ "The spooky, inked illustrations set the perfect mood for intrigue, suspense, and flashes of true terror. Levi and Kat's friendship remains charming, and the new characters add just enough to the dynamics to feel earned rather than like obligatory add-ons. This is a smart sequel, one that organically evolves the characters and their peculiar world, dropping breadcrumbs and hints that set up for a third entry while maintaining focus on the monsters at hand....A spine-tingling sequel that is well worth readers' time." —Kirkus, STARRED review

★ "A beautifully creepy tale that even those who haven't read the first title will appreciate. This interactive text encourages readers to engage in the critically important skill of 'reading with a discerning eye' and learning 'to separate fact from hoax,' as readers are invited to play detective with the evidence ­provided....Illustrations enhance the tone as it shifts from spooky to c­omedic. This must-read science- and nature-infused horror story is a rare text that truly ­captivates and stimulates readers' minds and imaginations."—School Library Journal, STARRED review

Praise for No Place for Monsters:

"Wildly imaginative and totally terrifying—No Place for Monsters will scare you silly!"—Jeff Kinney, New York Times bestselling author of the Diary of a Wimpy Kid series
"
No Place For Monsters
is like a haunted-house version of
Charlie and the Chocolate Factory
. Kory Merritt's wonderfully scary drawings will keep you turning the pages through this truly spooky adventure."—Brian Selznick,
New York Times
bestselling author of
The Invention of Hugo Cabret
and
Wonderstruck
"
No Place for Monsters 
is so striking, it leaves an after image. You'll be seeing the art long after you've shut your eyes for the night. Kory Merritt's vision of monsters in our world is terrifying and unforgettable." —Max Brallier,
New York Times
bestselling author of the Last Kids on Earth series