Becoming Duchess Goldblatt (Hardcover)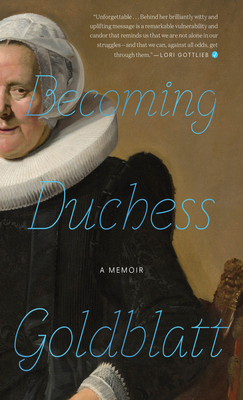 $24.00
Email or call for price
July 2020 Indie Next List
---
"After the collapse of her marriage and her whole life, the anonymous author of Becoming Duchess Goldblatt started a Twitter account, speaking in the voice of an imperious, slightly dotty, always caring 81-year-old writer. The Duchess became the focus of intense adoration and eventually helped her creator to reconnect with the 'real world' even as she kept her identity a secret. Becoming Duchess Goldblatt is a glorious memoir, a truly 21st-century tale of life both online and off."
— David Enyeart, Next Chapter Booksellers, St. Paul, MN
Description
---
One of the New York Times' 20 Books to Read in 2020

"A tonic . . . Splendid . . . A respite . . . A summer cocktail of a book."—Washington Post

"Unforgettable . . . Behind her brilliantly witty and uplifting message is a remarkable vulnerability and candor that reminds us that we are not alone in our struggles—and that we can, against all odds, get through them."—Lori Gottlieb, New York Times best-selling author of Maybe You Should Talk to Someone

Part memoir and part joyful romp through the fields of imagination, the story behind a beloved pseudonymous Twitter account reveals how a writer deep in grief rebuilt a life worth living.

Becoming Duchess Goldblatt is two stories: that of the reclusive real-life writer who created a fictional character out of loneliness and thin air, and that of the magical Duchess Goldblatt herself, a bright light in the darkness of social media. Fans around the world are drawn to Her Grace's voice, her wit, her life-affirming love for all humanity, and the fun and friendship of the community that's sprung up around her.
 
@DuchessGoldblat (81 year-old literary icon, author of An Axe to Grind) brought people together in her name: in bookstores, museums, concerts, and coffee shops, and along the way, brought real friends home—foremost among them, Lyle Lovett.
  
"The only way to be reliably sure that the hero gets the girl at the end of the story is to be both the hero and the girl yourself." — Duchess Goldblatt
About the Author
---
DUCHESS GOLDBLATT, 81, is the inspirational author of An Axe to Grind; Feasting on the Carcasses of My Enemies: A Love Story; and the heartwarming meditation on mothers and daughters Not If I Kill You First. A cultural icon, trophy ex-wife, friend to all humanity, and sponsor of the prestigious Goldblatt Prize in Fiction, she lives in Crooked Path, NY. She's fictional but her love is real.

ANONYMOUS, the real-life person in whose mind Duchess Goldblatt lives and flourishes, has gathered all available truth and beauty for these pages. There's nothing else to give.
Praise For…
---
 "Deeply satisfying, unexpectedly moving. ...As lovable as the duchess herself. ...In Duchess Goldblatt's digital neighborhood, people are not just welcome but completely adored. ...Duchess and Anonymous subtly, slowly become one person. She no longer feels alone; neither do her subjects. People find solace in this fictional character—and Anonymous does, too."  — Julie Klam, New York Times Book Review
"There's no recipe for Duchess Goldblatt tweets, but they often amount to one part conventional wisdom and two parts surrealism, with some grandmotherly tenderness or saltiness sprinkled in for good measure...Her feed is one of the few places on the internet devoted to spreading unadulterated joy. It's also a successful example of social media literature, due in part to Duchess's voice, which requires readers to confront the ridiculousness of the entire premise alongside the sincerity of her musings. ... Becoming Duchess Goldblatt recontextualizes the Twitter account as a therapeutic exercise."  — Kate Dwyer, New York Times
"Uplifting." — People, "The Best New Books"
"Quite possibly the greatest book ever to be born from a pseudonymous Twitter account, this nonfiction gem is written by a reclusive real-life writer who created a wise, enchanting online persona for herself. ... Duchess Goldblatt wants the world to be a better place; by the time you've finished this moving, funny memoir, it will be." — Seattle Times
"The Duchess is a light shining in the darkness, a beacon for troubled souls scrolling through their phones in the wee hours of the morning. Her presence has uplifted her human avatar, even as it heartens Her Grace's ever-growing audience of 'loons' and 'rascals.' She might be an invention of social media, but—as the Duchess would say—her love is real."   — BookPage
 "A life-affirming memoir packed with hilarity and candid observations about life and love."  — Marie Claire
?"A source of wry wisdom and off-kilter commentary...A testament to the powers of redemption, reinvention, and yes, country singer Lyle Lovett."  — Christian Science Monitor
"Duchess Goldblatt has self-fashioned a persona delivering bon mots both witty and gnomic, all while using the internet itself as an aesthetic medium where the product is constructed identity. ...This anonymous memoir delivers."  — The Millions
"A fascinating memoir by a 21st-century original." — Kirkus Reviews (starred review)
"A surprising, joyful story of social media at its best." — Booklist
"After reading this unforgettable memoir, I figured out who Duchess Goldblatt is: all of us. Behind her brilliantly witty and uplifting message is a remarkable vulnerability and candor that reminds us that we are not alone in our struggles—and that we can, against all odds, get through them. As though casting a magic spell on her readers, she moves, inspires, and connects us through her unvarnished humanity. It was, for this therapist, a form of therapy I didn't know I needed."  — Lori Gottlieb, New York Times-bestselling author of Maybe You Should Talk to Someone
"This book is, like Duchess Goldblatt herself, nothing you expect and everything you need. It's a memoir not just of one life (failures and triumphs laid bare) but also of a second self—its creation, its evolution, its improbable splendor. We may never deserve Duchess Goldblatt and her magnanimity, but her inventor most certainly does."  — Rebecca Makkai, author of the Pulitzer Prize and National Book Award finalist The Great Believers  
"What an unexpected marvel of a book, funny and poignant and—dare I say—sweet. It's fashionable to bash social media, but without it, we wouldn't have Duchess and that would be a damn shame." — Laura Lippman, New York Times-bestselling author of Lady in the Lake and Sunburn