Gather The Fortunes (A Crescent City Novel) (Paperback)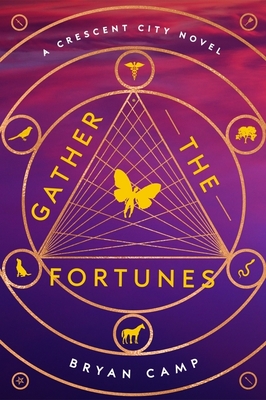 Description
---
Fate decides where you go when you die. Renai makes damn sure you get there
Renaissance Raines has found her place among the psychopomps—the guides who lead the souls of the recently departed through the Seven Gates of the Underworld—and done her best to avoid the notice of gods and mortals alike. But when a young boy named Ramses St. Cyr manages to escape his foretold death, Renai finds herself at the center of a deity-thick plot unfolding in New Orleans. Someone helped Ramses slip free of his destined end—someone willing to risk everything to steal a little slice of power for themselves.
Is it one of the storm gods that's descended on the city? The death god who's locked the Gates of the Underworld? Or the manipulative sorcerer who also cheated Death? When she finds the schemer, there's gonna be all kinds of hell to pay, because there are scarier things than death in the Crescent City. Renaissance Raines is one of them.
About the Author
---
BRYAN CAMP is a graduate of the Clarion West Writers' Workshop and the University of New Orleans's MFA program. He started his first novel, The City of Lost Fortunes, in the back seat of his parents' car as they evacuated the Crescent City during Hurricane Katrina.
Praise For…
---
A Publishers Weekly Book of the Week, May 20 —
"The magic and mythological heft of Bryan Camp's debut doesn't lose any momentum in Gather the Fortunes. He captures the essence and resilience of a still healing New Orleans by digging into the parts of a city too often ignored by the well-to-do and powerful. If The City of Lost Fortunes was a love letter to New Orleans then its next installment is an Earl King blue's song." — Brent Lambert, editor at FIYAH Magazine