Junior's Leg: A Novel (Paperback)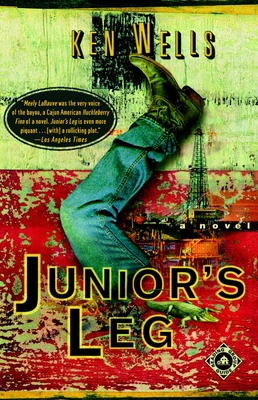 $18.72
Email or call for price
Description
---
Fifteen years after he tormented fellow students at Catahoula Bayou School, Junior Guidry is broke, drunk, one-legged, and living in a wreck of a trailer on the edge of a snake-infested swamp. He's survived an oil-rig accident that would've killed most men but, with the help of a good lawyer, made him rich instead. But he's squandered his fortune on drink, blackjack, womanizing, and brawling, leaving a wake of wrecked cars and friendships, not to mention lost or stolen wooden legs. Then the mysterious Iris Mary Parfait enters his life. She's on the run from a tragic childhood and a bad, bad man. When news reaches Junior that a bar owner with Mob connections has posted a $100,000 bounty on Iris's head because she knows too much about him, Junior realizes he could regain his fortune—but at what cost?

Narrated in Junior's unvarnished voice, Junior's Leg takes the reader on a singular journey through the mind of a troubled man. It is at turns unsettling, ribald, sexy, and poignant—a bold stroke of storytelling that ultimately plumbs the possibilities of love and redemption, even for as unlikely a candidate as Junior.
About the Author
---
Ken Wells, author of Meely LaBauve, is a senior writer and features editor for page one of The Wall Street Journal. In 1982, as ajournalist at The Miami Herald, he was a finalist for the Pulitzer Prize. He lives with his family outside Manhattan.