Shipwreck at the Bottom of the World: The Extraordinary True Story of Shackleton and the Endurance (Paperback)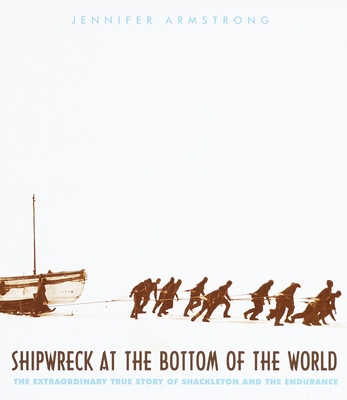 Description
---
The harrowing story of the ill-fated Endurance, now in paperback.

In August 1914, Ernest Shackleton and 27 men sailed from England in an attempt to become the first team of explorers to cross Antarctica from one side to the other. Five months later and still 100 miles from land, their ship, Endurance, became trapped in ice. The expedition survived another five months camping on ice floes, followed by a perilous journey through stormy seas to remote and unvisited Elephant Island. In a dramatic climax to this amazing survival story, Shackleton and five others navigated 800 miles of treacherous open ocean in a 20-foot boat to fetch a rescue ship.

Shipwreck at the Bottom of the World vividly re-creates one of the most extraordinary adventure stories in history. Jennifer Armstrong narrates this unbelievable story with vigor, an eye for detail, and an appreciation of the marvelous leadership of Shackleton, who brought home every one of his men alive.
About the Author
---
Ever since the first grade, Jennifer Armstrong knew that she would become an author. She loved making up stories and sharing them with others. Her family treasured books and this led her to become an avid reader of all types of fiction. It was no surprise when she chose to study English and American Literature at Smith College in Massachusetts.

Armstrong is the author of over 50 books for children from kindergarten through high school. Best known for writing historical fiction, she has also been successful in
creating picture books, easy readers, chapter books, young adult novels, as well as nonfiction.

Armstrong, who grew up outside of New York City, now lives in Saratoga Springs, New York.

Jennifer Armstrong is the winner of the Orbis Pictus Award for Outstanding Nonfiction for Shipwreck at the Bottom of the World. Many of her books have been designated as Notable Books by the American Library Association and the International Reading Association.

For more information on Jennifer Armstrong, visit her website at www.jennifer-armstrong.com, or read her blog at www.jennifer-armstrong.blogspot.com.
Praise For…
---
"A book that will capture the attention and imagination of any reader."
--School Library Journal, Starred

"This unbelievable story is enhanced by the vigorous prose; from the captivating introduction through the epilogue, it is the writing as much as the story that will rivet readers."
--Kirkus Reviews, Pointer

"Armstrong's absorbing storytelling, illustrated with dramatic black-and-white photographs, makes this an enthralling adventure."
--Publishers Weekly, Starred