Extra Virgin: Recipes & Love from Our Tuscan Kitchen: A Cookbook (Hardcover)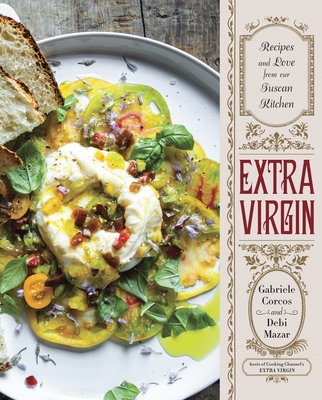 $38.03

Not in stock. Usually arrives in 2-5 Days
Description
---
Debi Mazar and Gabriele Corcos, hosts of the Cooking Channels's hit show Extra Virgin, bring together food, family, and style in a celebration of the pleasures of the rustic Italian table with 120 recipes for simple yet exquisite meals that are accessible, full of fresh flavor, and easy to prepare.

Devi Mazar and Gabriele Corcos are ambassadors of contemporary Tuscan cooking. In Extra Virgin, Gabriele is a traditional Italian with a big heart, and Debi is an outgoing, brash New York City girl. Their sassy and playful exchanges illuminate what's important in everyday life: good food and a lot of love.

Ranging from traditional antipasti and soups to their spin on entrees, pizzas, and desserts, recipes include Pecorino and Honey Dip, a sweet and salty way to start a meal; tangy, luscious Grilled Apricots with Goat Cheese Ricotta, inspired by wild Tuscan apricot trees; and Sausage and Beans, which offers hints of fennel in a Tuscan red sauce. Here, too, are Braised Artichokes softened in guanciale-infused oil, Breakfast Pizza, and Coffee Granita just as Italians make it.

So flag these recipes, get sauce on them, let splashes of olive oil mark the pages—and invite Debi and Gabriele's charisma and passion for cooking to spill into your kitchen.
About the Author
---
DEBI MAZAR made her film debut in Martin Scorsese's Goodfellas, has appeared in more than fifty feature films, and is known for her role on HBO's hit series Entourage. GABRIELE CORCOS was raised in Tuscany. Together they are the producers and cohosts of Cooking Channel's primetime show Extra Virgin and the creators of UndertheTuscanGun.com. They live in Brooklyn with their two daughters.
Praise For…
---
"I love this book for the same reasons I love Deb and Gabriele. It is filled with passion and reminds us all how food always brings people together." —MICHAEL SYMON

"Gabriele and Debi create rustic Italian food the way I like it: cooked at home for family and friends. Like vinegar and oil, Gabriele and Debi are brilliant opposites and everything they touch is better and more delicious." —MARIO BATALI

"Extra Virgin is a terrific book. I want to eat at Gabriele and Debi's house. Now." —ANTHONY BOURDAIN

"I was married in Tuscany and the food of this region—straight-forward, earthy, romantic yet rustic, is very special and evocative to me. This book, like Deb, is a true beauty. —RACHAEL RAY

"Debi and Gabriele's Extra Virgin makes me yearn for the flavors of Italy. Amazing pastas, sun ripened salads, and savory dishes from the grill and the oven. Angry Lobster pasta, please." —BOBBY FLAY

"There isn't a kitchen I would rather eavesdrop and peep into than Gabriele and Debi's. Extra Virgin has smartly chosen recipes, deft cooking, and drips with easy going sensuality." —ANDREW ZIMMERN

"Recipes made with love by two people truly in love are what you have here. This book is the perfect place to turn for their delicious recipes and love on a plate." —SUNNY ANDERSON

"The spirit of Tuscany and its delicious, heartwarming, family-oriented cuisine is all over this beautiful cookbook, and will inspire home cooks everywhere." —NANCY SILVERTON

"Extra Virgin is a soulful cookbook that brings love of food and family together with healthy, light, and luscious Italian dishes. Their book left me wanting more as only food and love can." —CAT CORA

"This is a beautiful book—rich and gloriously realized. I can't wait to open some wine and start cooking!" —GEOFFREY ZAKARIAN

"I can't wait to share this book with my wife, because believe it or not, I may be the chef, but she rules the kitchen." —MICHAEL WHITE

"This is the definitive Tuscan cookbook, filled with savory recipes, gorgeous photography, and charming anecdotes." —DREW NIEPORENT

"I can't cook to save my life, but if I could, I would walk vicariously into Deb's kitchen wearing her black patent stilettos, and scream in my best Brooklyn accent, 'Get it while it's hot!'" —MADONNA

"Mmmmm! Tuscan-y! Yum, yum, yum!" —PAUL "PEE-WEE HERMAN" REUBENS

"This book is delicious." —MARTIN SCORSESE