The Flying Beaver Brothers and the Crazy Critter Race (Paperback)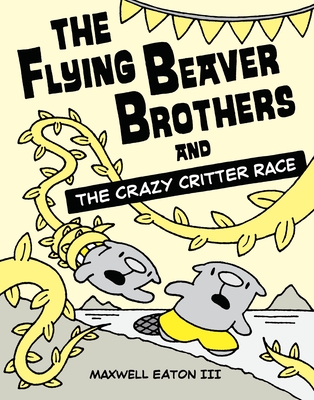 Description
---
The race is on for Ace and Bub in their sixth adventure in this popular young graphic novel series, which Kirkus called "funny from the first panel!"

Ace and Bub are tangled up in an island-hopping competition, and there's more than just the grand prize—a houseboat!—at stake. The salesman and sponsor is Crazy Critter (and he really is craaazy), and it soon becomes clear that he has more than publicity for his houseboat dealership to gain from the race. Before long, the brothers are wrapped up in the plot: a fast-growing vine is entangling all the nearby islands! Which of their fellow competitors can help them put a stop to this outbreak—and which ones are behind it?
About the Author
---
Maxwell Eaton III grew up in Vermont, where he spent his childhood climbing trees, damming streams, and spying on unsuspecting cows. He now creates children's books in Tucson, Arizona, where the trees can't be climbed and the streams run dry, but the cows are still relatively unsuspecting. He is the author and illustrator of the Adventures of Max and Pinky series, Two Dumb Ducks, and the Flying Beaver Brothers series.