When Should Law Forgive? (Hardcover)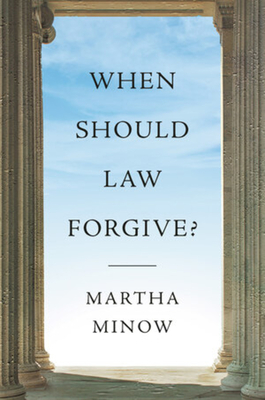 Description
---
The potential power of forgiveness in an age of resentment.
Crimes and violations of the law require punishment, and our legal system is set up to punish, but what if the system was recalibrated to also weigh grounds for forgiveness? What if something like bankruptcy—a fresh start for debtors—were available to people convicted of crimes? Martha Minow explores the complicated intersection of the law, justice, and forgiveness, asking whether the law should encourage people to forgive, and when courts, public officials, and specific laws should forgive.
Who has the right to forgive? Who should be forgiven? And under what terms? Minow tackles these foundational issues by exploring three questions:


What does the international response to child soldiers teach us about the legal treatment of juvenile offenders in the United States?


Why are the laws surrounding corporate debt more forgiving than those governing American student and consumer debt, and sovereign debt in the developing world?


When do law's tools of forgiveness, amnesties, and pardons strengthen justice, peace, and democracy (think South Africa), and when do they undermine law's promise of fairness (think Joe Arpaio)?


There are certainly grounds for both individuals and societies to withhold forgiveness, but there are also cases where letting go of legitimate grievances can make the law more just, not less. The law is democracy's girder beam, and Minow urges us to build forgiveness into the administration of our laws. Forgiveness, wisely exercised, can strengthen law, democracy, and respect for the humanity of each person.
About the Author
---
Martha Minow is the 300th Anniversary University Professor and former dean of Harvard Law School, where she teaches courses on constitutional law and on law and social change. She has written many influential books and articles about law and society.
Praise For…
---
In a world of noise and confusion, animated by vengeance, Martha Minow is a voice of moral clarity: a lawyer arguing for forgiveness, a scholar arguing for evidence, a person arguing for compassion.
— Jill Lepore, best-selling author of These Truths

No one but Martha Minow could have written this brilliant, and brilliantly readable, meditation on the role of forgiveness in the law and of the law in forgiveness…[showing how] to move forward and rebuild while both remembering the past and getting past it.
— Laurence Tribe, author of To End a Presidency

'May one be pardoned and retain the offense?' (Hamlet). In a book at once compassionate, nuanced, and tough-minded, Martha Minow brings together in an illuminating conjunction a set of issues that at first glance seem to have nothing whatever in common: horrific crimes committed by child soldiers, corporate and student debt, and presidential pardons for unrepentant criminals. All of these, as Minow brilliantly shows, raise the same pressing and contentious question: For what offenses and under what conditions should a just legal system offer forgiveness? This is a legal minefield through which When Should Law Forgive? provides an indispensable guide.

— Stephen Greenblatt, Pulitzer Prize winner

In this time, so shaped by reactionary and 'call-out' cultures that foster harsh, virtue-signaling condemnation of others, this brilliant book carries a profound reminder: for a diverse society to cohere as a humane society, it has to have the capacity—rooted in law—to forgive and reconcile. This book's inspiring discussion of how the law can do this is a beacon to that more humane society.
— Claude Steele, author of Whistling Vivaldi

Martha Minow's work on how societies can recover from large-scale tragedies and human-rights violations has been transformational…Her insights are smart, thoughtful, and rooted in a deep, nuanced understanding of what justice sometimes demands.
— Bryan Stevenson, founder of the Equal Justice Initiative

Minow's compassionate, knowledgeable, and nuanced examination…is groundbreaking and should provide a useful framework for future policy makers.
— Publishers Weekly

A solid, accessible contribution to the literature of restorative justice.
— Kirkus Reviews

[When Should Law Forgive?] will help readers understand the thorny complexities of forgiveness under law.

— Booklist