Superiority Burger Cookbook: The Vegetarian Hamburger Is Now Delicious (Hardcover)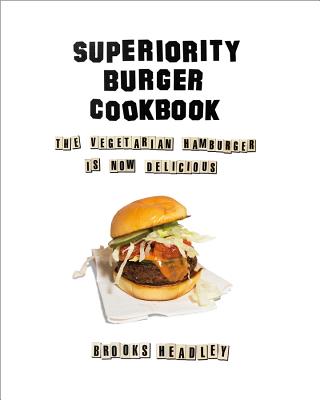 Description
---
Winner of the 2019 Art of Eating Prize



With more than 90 mouth-watering recipes, Superiority Burger Cookbook lays bare the secrets of America's most talked-about vegetarian restaurant, in recipes as a simple as they are irresistible.
Along with recipes for a coterie of other delights—fresh, vegetarian, accidentally vegan, and always incredible—you'll find out why Superiority Burger in New York City's East Village is the hottest ticket in North America and the surrounding continents.
Superiority Burger is a cozy counter hangout filled with affordable, innovative food that is a protest against the idea that extraordinary fare is the exclusive domain of the elite. Now you can bring its blueprint for rebel compassion and culinary sophistication into your home with this cookbook; a must-read for home cooks who want something delicious, new, and imminently within their reach. The book is divided into six flavorful sections—Sandwiches, Cool Salads, Warm Vegetables, Soups and Stews, Sweets, and Pantry Recipes—and reveals the recipes for some of the restaurant's favorites: the Sloppy Dave, Burnt Broccoli Salad, Russet Potato–Coconut Soup, Tahini Ranch Romaine Salad, and, of course, the now legendary Superiority Burger.
"Brooks Headley makes the best veggie burger I've ever had." —David Chang
About the Author
---
Brooks Headley, chef-owner of Superiority Burger, was named best pastry chef in the country in 2013 by the James Beard Foundation. His previous cookbook, Brooks Headley's Fancy Desserts, won the Piglet Tournament of Cookbooks from Food52. He lives in New York City.
Praise For…
---
Soups, salads, stews—and veggie burgers—from the popular (if tiny) punk-rock restaurant in New York's East Village, all served with welcome deadpan humor.

The Superiority Burger Cookbook is full of wit, smart technique and the sort of deeply satisfying food you'll find yourself craving at 2 a.m…a wonderland of crazy-creative, approachable vegetable dishes that don't even give meat a backward glance.


[Headley's] recipe includes brilliant flavor-building strokes.

A twin pack of pleasure: First we get Brooks Headley's terrific writing and then his great recipes. All the Superiority Burger favorites are here, all the off-beat combinations—I think of them as Brooksisms—and all the good instructions we need to make this deeply satisfying food at home. It's such an exciting book!
— Dorie Greenspan, author of Dorie's Cookies and Everyday Dorie

In an alternate universe Superiority Burger is bigger than McDonald's, all the Ramones, Slits, and Prince are still alive, and everyone is happy. Until then, we have this cookbook.
— Kerry Diamond, editor of Cherry Bombe Magazine

No idle boasting here—this vegetarian hotspot lives up to the name, and Superiority is my first stop upon arrival in NYC. This unique cookbook reveals the magical secrets of a one-of-a-kind menu that puts the competition to shame.
— Neil Hamburger, America's $1 Funnyman

Rarely is a pastry chef able to make the transition from sweets to savory as seamlessly as Brooks Headley. Once again, Brooks' creativity is on display in Superiority Burger Cookbook. The recipes are mouthwatering and I can't wait to get my hands on it.

— Claudia Fleming, chef and author of The Last Course

Eruptions of molten fruit magma, pump cheese, and rutabagas. As vibrant a book as New York City itself.
— Meredith Erickson, author of The Art of Living According to Joe Beef and Claridge's Cookbook

This is an outstanding cookbook—full of fun and a perfect start to summer cooking.