When Should Law Forgive? (Paperback)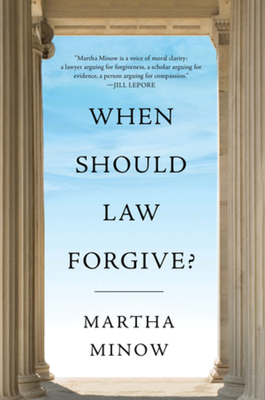 Description
---
"Martha Minow is a voice of moral clarity: a lawyer arguing for forgiveness, a scholar arguing for evidence, a person arguing for compassion." —Jill Lepore, author of These Truths
In an age increasingly defined by accusation and resentment, Martha Minow makes an eloquent, deeply-researched argument in favor of strengthening the role of forgiveness in the administration of law. Through three case studies, Minow addresses such foundational issues as: Who has the right to forgive? Who should be forgiven? And under what terms?
The result is as lucid as it is compassionate: A compelling study of the mechanisms of justice by one of this country's foremost legal experts.
About the Author
---
Martha Minow is the 300th Anniversary University Professor and former dean of Harvard Law School, where she teaches courses on constitutional law and on law and social change. She has written many influential books and articles about law and society.
Praise For…
---
Martha Minow's work on how societies can recover from large-scale tragedies and human-rights violations has been transformational.… Her insights are smart, thoughtful, and rooted in a deep, nuanced understanding of what justice sometimes demands.
— Bryan Stevenson, founder of the Equal Justice Initiative

No one but Martha Minow could have written this brilliant, and brilliantly readable, meditation on the role of forgiveness in the law and of the law in forgiveness… [showing how] to move forward and rebuild while both remembering the past and getting past it.
— Laurence Tribe, author of To End a Presidency

In a book at once compassionate, nuanced, and tough-minded, Martha Minow brings together in an illuminating conjunction a set of issues that at first glance seem to have nothing whatever in common: horrific crimes committed by child soldiers, corporate and student debt, and presidential pardons for unrepentant criminals. All of these, as Minow brilliantly shows, raise the same pressing and contentious question: For what offenses and under what conditions should a just legal system offer forgiveness? This is a legal minefield through which When Should Law Forgive? provides an indispensable guide.

— Stephen Greenblatt, Pulitzer Prize winner

In this time, so shaped by reactionary and 'call-out' cultures that foster harsh, virtue-signaling condemnation of others, this brilliant book carries a profound reminder: for a diverse society to cohere as a humane society, it has to have the capacity—rooted in law—to forgive and reconcile. This book's inspiring discussion of how the law can do this is a beacon to that more humane society.
— Claude Steele, author of Whistling Vivaldi

Minow's new book thoroughly explores one enduring means of conflict resolution that is far too often overlooked: forgiveness.
— Judge Ketanji Brown Jackson - Law360

Minow's compassionate, knowledgeable, and nuanced examination of the gains that may follow policies that substitute forgiveness for rigid legal remedies is groundbreaking.
— Publishers Weekly