The Picture of Dorian Gray (Norton Critical Editions) (Paperback)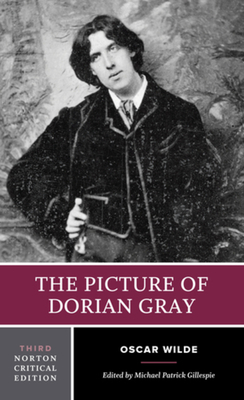 $35.63
Special Order. May not be available. Call the store for details.
Description
---
"This edition is of the utmost importance to those interested in Wilde and literary modernism. It seems certain to become the standard edition of Dorian Gray." —Ned Lukacher, University of Illinois at Chicago
This Norton Critical Edition includes:


The 1890 (Lippincott's Magazine) version and the 1891 (book) version of the novel. Under the editorial guidance of Wilde scholar Michael Patrick Gillespie, students have the opportunity to comparatively read and analyze both texts of this controversial novel.


Editorial matter by Michael Patrick Gillespie.


"Backgrounds" and "Reviews and Reactions" sections that allow readers to gauge The Picture of Dorian Gray's sensational reception and to consider the heated public debate over art and morality that followed—including Oscar Wilde's vehement replies to individual critics.


Seven critical essays—six of them new to the Third Edition—that address the novel's major themes: aestheticism, decadence, and vice. Contributors include Joseph Carroll, Nils Clausson, Emily Eells, Michael Patrick Gillespie, Richard Haslam, Donald L. Lawler, and Ellen Scheible.


A chronology and a selected bibliography.


About the Series

Read by more than 12 million students over fifty-five years, Norton Critical Editions set the standard for apparatus that is right for undergraduate readers. The three-part format—annotated text, contexts, and criticism—helps students to better understand, analyze, and appreciate the literature, while opening a wide range of teaching possibilities for instructors. Whether in print or in digital format, Norton Critical Editions provide all the resources students need.
About the Author
---
Michael Patrick Gillespie is Professor of English at Florida International University. He is the author of Oscar Wilde and the Poetics of Ambiguity, Branding Oscar Wilde, The Aesthetics of Chaos: Nonlinear Thinking and Contemporary Literary Criticism, Inverted Volumes Improperly Arranged: James Joyce and His Trieste Library, Reading the Book Himself: Narrative Strategies in the Works of James Joyce, The Aesthetics of Chaos, The Myth of an Irish Cinema, James Joyce and the Exilic Imagination, Reading William Kennedy, and Film Appreciation through Genres. His other edited works include the Norton Critical Edition of The Importance of Being Earnest, James Joyce and the Fabrication of an Irish Identity, and Joyce through the Ages: A Non-Linear View.