Intensive Psychotherapy for Persistent Dissociative Processes: The Fear of Feeling Real (Norton Series on Interpersonal Neurobiology) (Hardcover)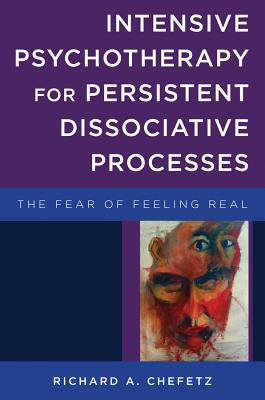 $52.95

Not in stock. Usually arrives in 2-5 Days
Description
---
Winner of the International Society for the Study of Trauma and Dissociation's (ISSTD) Pierre Janet Writing Award, 2015.



What really happens in dissociation.
Dissociative processes have long burdened trauma survivors with the dilemma of longing to feel "real" at the same time as they desperately want to avoid the pain that comes with that healing—a dilemma that often presents particularly acute difficulties for healing professionals. Recent clinical and neurobiological research sheds some light into the dark corners of a mind undergoing persistent dissociation, but its integration into the practice of talking therapy has never, until now, been fully realized.
Intensive Psychotherapy for Persistent Dissociative Processes
brings readers into the consultation room, and into the minds of both patient and therapist, like no other work on the treatment of trauma and dissociation. Richard A. Chefetz marries neuroscientific sophistication with a wealth of extended case histories, following patients over several years and offering several verbatim session transcripts. His unpacking of the emotionally impactful experience of psychodynamic talking therapy is masterfully written, clearly accessible, and singularly thorough.
From neurobiological foundations he builds a working understanding of dissociation and its clinical manifestations. Drawing on theories of self-states and their involvement in dissociative experiences, he demonstrates how to identify persistent dissociation and its related psychodynamic processes, including repetition compulsion and enactment. He then guides readers through the beginning stages of a treatment, with particular attention to the psychodynamics of emotion in both patient and therapist.
The second half of the book immerses readers in emotionally challenging clinical processes, offering insight into the neurobiology of fear and depersonalization, as well as case examples detailing struggles with histories of incest, sexual addiction, severe negativity, negative therapeutic reactions, enactment, and object-coercive doubting. The narrative style of Chefetz's casework is nearly novelistic, bringing to life the clinical setting and the struggles in both patient and therapist. The only mystery in this clinical exposition, as it explores several cases over a number of years, is what will happen next.
In the depth of his examples and in continual, self-reflexive analysis of flaws in past treatments, Chefetz is both a generous guide and an expert storyteller.
Intensive Psychotherapy for Persistent Dissociative Processes
is unique in its ability to place readers in the consultation room of psychodynamic therapy. With an evidence-focused approach based in neurobiology and a bold clinical scope, it will be indispensible to new and experienced therapists alike as they grapple with the most intractable clinical obstacles.
About the Author
---
Richard A. Chefetz, MD, is a psychiatrist in private practice in Washington, D.C. He was President of the International Society for the Study of Trauma and Dissociation (2002-3), and is a Distinguished Visiting Lecturer at the William Alanson White Institute of Psychiatry, Psychoanalysis, and Psychology. He is a faculty member at the Washington School of Psychiatry, the Institute of Contemporary Psychotherapy & Psychoanalysis, and the
Washington Center for Psychoanalysis.
Praise For…
---
[A] goldmine for anyone struggling to understand this most perplexing and important of fields. . . . Dissociative disorders are frequently described as 'hidden disorders,' in part because even in plain sight their signs and symptoms are subtle and nuanced. That elusiveness is perhaps the most daunting challenge to developing clinicians . . . . I know of no other work on dissociation that contributes so much in this regard. . . . [N]o one can gainsay the invaluable contribution this treatise has made in illuminating diverse dissociative symptomatology in the complex clinical contexts in which it is most often encountered, and too often overlooked.
— Psychodynamic Psychiatry

Reading this book feels like a friendly, usable bridge for any therapist interested in a more complete understanding of psychodynamic concepts, the enduring effects of developmental trauma, and how to engage with patients who have a fundamental fear of being visible to us and to themselves. . . . Despite its title and emphasis on treating dissociative disorders, this book should also be read as a significant contribution to the general understanding of psychopathology and psychological defense.
— Journal of Trauma and Dissociation

Chefetz shows by example that we can reach beyond the limits of these disabling disorders. . . . It is clear from case illustrations that Chefetz has a special talent for working with complex conditions, as well guiding less experienced clinicians. Reading this book, I felt the comfort of talking with a mentor about my own difficult or confusing cases. . . . Few resources on this topic rival this well-written book. Without hesitation, I recommend it to all clinicians who work with complex disorders.
— The Milton H. Erickson Foundation Newsletter

Avoiding the density of a traditional textbook, Intensive Psychotherapy for Persistent Dissociative Processes takes an intimate look at the techniques that the author incorporates within his own practice. It couples this with a presentation style accessible for professional readership of diverse experience and methodology. . . . [A] highly illuminative book for how treatment for dissociative processes is unique . . . . For those therapists who are currently or expecting to encounter these processes in their work, the book is an expansive resource.

— Somatic Psychotherapy Today

Whether laying out verbatim vignettes, neuroscience, or positioning his work within the plains of psychoanalytic theory, his style is engaging and it is a pleasure to read. . . . [I]t made me think and it fed directly, immediately and effectively into my practice. For these reasons I highly recommend it.
— European Society for Trauma and Dissociation newsletter

[This book] does a fantastic job of explaining the dissociative process of patients who have struggled with connecting their painful history to their current reality. . . . [S]uited for a student in training, a mental health professional, or a layman with prior knowledge of the field of psychiatry and psychotherapy. . . [A] great book for professionals working with clients who dissociate. . . . Chefetz offers an inside look at dissociative processes and stimulates the reader's mind on how to intervene, heal, and care for someone struggling with dissociation.
— PsychCentral

Richard Chefetz, arguably the most astute and sophisticated mind in the field of trauma and dissociation, accompanies his readers on a personal journey into the mind and consulting room of a master clinician, scientist, and educator. This book demonstrates why dissociation is mostly not about dissociate disorders. It is about how a mind struggles to cope with the intolerable and unbearable. As both a traumatologist and a psychodynamic clinician, Chefetz has built a bridge that explores the joint dissociative processes that take place as part of the patient/therapist relationship.
— Philip M. Bromberg, PhD, author, The Shadow of the Tsunami: and the Growth of the Relational Mind

A master teacher on dissociative phenomena, Richard Chefetz integrates scientific sophistication with in-the-trenches clinical mastery. His eloquent writing—synthesizing theory and practice, mind and body, left- and right-brain processes, research and application, science and art—exemplifies the healing integration sought by every therapist familiar with dissociative disorders. I recommend it to anyone seriously interested in the treatment of fractured minds and defeated hearts. 
— Nancy McWilliams, PhD, Professor, Rutgers University Graduate School of Applied & Professional Psychology

Dr. Chefetz has written an engaging and reader-friendly introduction to the relational understanding and treatment of dissociative processes. More impressively still, he accomplishes these objectives with the flair of a master storyteller. . . . incredibly useful for any mental health professional beginning to make his or her way into the often complex, overwhelming, and disconcerting study of dissociative processes. I recommend it highly.
— Richard P. Kluft, MD, PhD, authors of Shelter from the Storm and Good Shrink/Bad Shrink

With a wonderfully engaging style, Richard Chefetz instructs readers in the art of blending psychodynamic and affect theory with attachment, neurobiology, and trauma-related research in the treatment of severely dissociative patients. Clinicians, get ready to be inspired by the warmth, attunement, and clinical skill demonstrated in this book! 
— Bethany Brand, PhD, Principal Investigator, TOP DD Study (Treatment of Patients with Dissociative Disorders), Professor of Psychology, Towson University

Brilliant and amazing. I think of metaphors as part of the language of poetry. That makes Chefetz a marvelous poet. He has found countless ways of describing dissociation, and offers so many non-pathologizing descriptors.
— Farnsworth Lobenstine, LICSW, EMDRIA Approved Consultant, EMDR Institute and EMDR HAP Facilitator

As a therapist, wading into the first chapter of Intensive Psychotherapy, I felt quietly amazed and soothed by the well-described detail of the experiences he brings to light. The results for me were insights into my clients' behaviors as well as words and strategies that were eminently applicable and useful in my therapy.

— Meggan Moorhead Ed.D., The North Carolina Psychologist