Navigating Autism: 9 Mindsets For Helping Kids on the Spectrum (Paperback)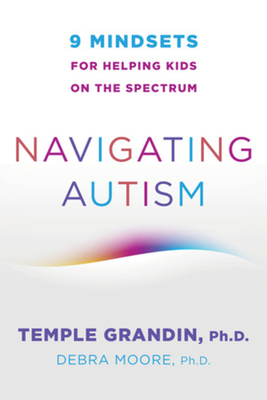 Description
---
Empowering strategies for anyone who works with children and teens on the spectrum.
International best-selling writer and autist Temple Grandin joins psychologist Debra Moore in presenting nine strengths-based mindsets necessary to successfully work with young people on the autism spectrum. Examples and stories bring the approaches to life, and detailed suggestions and checklists help readers put them to practical use.
Temple Grandin shares her own personal experiences and anecdotes from parents and professionals who have sought her advice, while Debra Moore draws on more than three decades of work as a psychologist with kids on the spectrum and those who love and care for them. So many people support the lives of these kids, and this book is for all of them: teachers; special education staff; mental health clinicians; physical, occupational, and speech therapists; parents; and anyone interacting with autistic children or teens.
Readers will come away with new, empowering mindsets they can apply to develop the full potential of every child.
About the Author
---
Dr. Temple Grandin is one of the world's most respected experts in the fields of autism and animal behavior and livestock handling. As a toddler, she had speech delays as well as other signs of severe autism. Many hours of speech therapy and intensive training ultimately enabled Temple to speak. Mentoring by a high school science teacher and exposure to her aunt's ranch in Arizona motivated her to pursue a career as a scientist and livestock equipment designer. She is a prolific speaker, internationally best-selling author, and Professor of Animal Science at Colorado State University. In 2020 she was honored as a Top Ten College Professor in America. In 2010, Time 100, an annual list of the 100 most influential people in the world, named her in the "Heroes" category. She was also the subject of the Emmy- and Golden Globe-winning semi-biographical film Temple Grandin.

Dr. Debra Moore is a psychologist who has worked extensively with children, teens, and adults on the autism spectrum. She believes in therapy approaches that focus on strengths and interests, recognize the individual differences of each client, and foster confidence and potential. She was the Founder and Director of Fall Creek Counseling Associates, a practice that served the greater Sacramento area and was an approved teaching site for psychologists in training. Now retired from active practice, she devotes her time to volunteering and writing. She contributed to The Nine Degrees of Autism (2015) and authored "Internet and Gaming Addiction in Youth on the Autism Spectrum: A Particularly Vulnerable Population" in Internet Addiction in Children and Adolescents (2017). This is her second project with Dr. Temple Grandin, coauthoring The Loving Push: How Parents and Professionals Can Help Spectrum Kids Become Successful Adults in 2016. She resides in Rappahannock County, Virginia.
Praise For…
---
Readers will appreciate the straightforward language, the direct approach to dealing with challenging situations, and the authors' focus on bringing out "each child's unique and maximum potential. Those with a vested interest in helping children on the spectrum will find this a valuable resource worth returning to.
— Publishers Weekly

A welcome, instructive handbook for readers concerned with the well-being of people with autism.


— Kirkus

Whether you're a therapist, physician, educator, parent, or caregiver, Navigating Autism is a must-read for all people who support and interact with autistic children and teens. The nine strength-based mindsets presented by authors Temple Grandin, Ph.D. and Debra Moore, Ph.D., encourage readers to look beyond the narrative and focus on what makes each child wonderfully unique. Teeming with professional experience and valuable anecdotes, this book energizes and empowers while providing a fresh approach to navigating autism.

— Amy KD Tobik, Editor-in-Chief/CEO, Exceptional Needs Today

In Navigating Autism, Drs. Temple Grandin and Debra Moore provide a 'circle of guidelines' that documents practical, strength-based information for supporting autistic children and adults. With reference to Temple's lifetime of experience, and multiple examples of children and adults on the spectrum from Dr. Moore's years of clinical practice, the guidelines address crucial issues such as diagnosis, associated conditions, clinical/educational assessments, and the need to build on strengths from a positive whole-child, whole-person perspective. This comprehensive work will be an invaluable resource for both families and professionals.

— Barry M. Prizant, Ph.D., CCC-SLP, Brown University, Author of Uniquely Human: A Different Way of Seeing Autism

Temple Grandin and Debra Moore have made a valuable contribution to the body of literature for autism therapists and clinicians. As their book so eloquently states, autistic children are much more than 'packages of disabilities'. This book will help clinicians and other professionals see neurodiverse children in a different and better light, and open the door to better support.
— John Elder Robison, Neurodiversity Scholar, the College of William & Mary, Advisor to the Center for Neurodiversity, Landmark College

This is an in-depth, essential resource for those helping clients on the autism spectrum who want to move beyond label-locking thinking and provide a whole-person approach that honors the rich lived experience of autism. From assessment that considers social-emotional, sensory, motor, medical conditions, and psychiatric co-morbidities, to intervention that draws on a strength-based approach, this is an invaluable book for optimizing interventions to help clients feel and function at their best. 
— Lindsey Biel, Occupational Therapist and Author of Sensory Processing Challenges: Effective Clinical Work with Kids & Teens