Generation Kill: Devil Dogs, Ice Man, Captain America, and the New Face of American War (Paperback)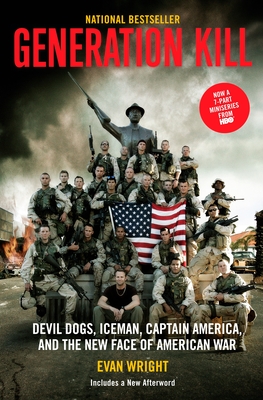 $16.00

Not in stock. Usually arrives in 2-5 Days
Description
---
Based on Evan Wright's National Magazine Award-winning story in Rolling Stone, this is the raw, firsthand account of the 2003 Iraq invasion that inspired the HBO® original mini-series.

Within hours of 9/11, America's war on terrorism fell to those like the twenty-three Marines of the First Recon Battalion, the first generation dispatched into open-ended combat since Vietnam. They were a new pop-culture breed of American warrior unrecognizable to their forebears—soldiers raised on hip hop, video games and The Real World. Cocky, brave, headstrong, wary and mostly unprepared for the physical, emotional and moral horrors ahead, the "First Suicide Battalion" would spearhead the blitzkrieg on Iraq, and fight against the hardest resistance Saddam had to offer.

Hailed as "one of the best books to come out of the Iraq war"(Financial Times), Generation Kill is the funny, frightening, and profane firsthand account of these remarkable men, of the personal toll of victory, and of the randomness, brutality and camaraderie of a new American War.
About the Author
---
Evan Wright
is the author of
Hella Nation
and 
Generation Kill
, the basis of the HBO® miniseries for which he served as co-writer. Wright earned his degree in medieval and Renaissance studies from Vassar College, an education he soon put work at
Hustler
magazine, where he served as "Entertainment Editor." In the late 1990's he began writing feature articles for
Rolling Stone
 focused on youth subcultures, from radical environmentalists to skinheads to sorority girls. His work is characterized by immersion in his subjects' worlds, detailed reporting and dark humor.
After 9/ll he pitched his editor on the idea that since the US military was "basically another youth subculture," he ought to be writing about it. Generation Kill received numerous awards, including the J. Anthony Lukas Book Prize, the Los Angeles Times book award, a PEN USA literary prize and the Marine Corps Heritage Foundation's award for "Best History of the Marine Corps."

Wright has covered the wars in both Afghanistan and Iraq. He is the recipient of two National Magazine Awards, one for reporting on the war in Iraq in Rolling Stone and the other for a profile published in Vanity Fair.
Praise For…
---
"A pungently written combat narrative and a close-range study of a bunch of twentysomething warriors trying to get a handle on who they are."—Time
"Nuanced and grounded in details often overlooked in daily journalistic accounts...A complex portrait of able young men raised on video games and trained as killers."—The New York Times

"A stellar reporting achievement...Think Black Hawk Down or Michael Herr's Dispatches."—ottawa Citizen
"Shockingly honest."—Entertainment Weekly

"Visceral, sometimes shocking...a brutally honest acount of America's latest generation to experiencethe stark, horrifying realities of warfare."—Boston Herald

"Sidesteps Greatest Generation clichés to find the unexpected—a self-described 'Marine Corps killer' who listens to Barry Manilow, a corporal who compares a gunfight to Grand Theft Auto: Vice City."—The Washington Post

Wright wrote about [his] experience in a three-part series in Rolling Stone that was hailed for its evocative, accurate war reporting. This book, a greatly expanded version of that series, matches its accomplishment. Wright is a perceptive reporter...a personality-driven, readable and insightful look at the Iraq war's first month from the Marine grunt's point of view...compelling portraits...a vivid, well-drawn picture."—Publishers Weekly

"The language is blue, the blood red, and the action explosive. This may be the book of the Iraqi engagement."—Richmond Times-Dispatch