Burned: A Fever Novel (Mass Market)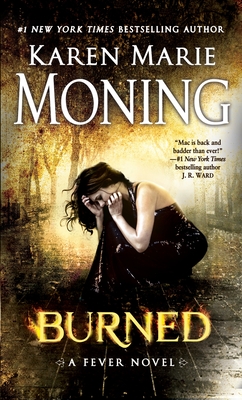 $8.99
Email or call for price
Other Books in Series
This is book number 7 in the Fever series.
Description
---
NEW YORK TIMES BESTSELLER • "Mac is back and badder than ever!"—J. R. Ward

MacKayla Lane and Jericho Barrons return in the blockbuster Fever series from Karen Marie Moning.

It's easy to walk away from lies. Power is another thing.

MacKayla Lane would do anything to save the home she loves. A gifted sidhe-seer, she's already fought and defeated the deadly Sinsar Dubh—an ancient book of terrible evil—yet its hold on her has never been stronger.

When the wall that protected humans from the seductive, insatiable Fae was destroyed on Halloween, long-imprisoned immortals ravaged the planet. Now Dublin is a war zone with factions battling for control. As the city heats up and the ice left by the Hoar Frost King melts, tempers flare, passions run red-hot, and dangerous lines get crossed. Seelie and Unseelie vie for power against nine ancient immortals who have governed Dublin for millennia; a rival band of sidhe-seers invades the city, determined to claim it for their own; Mac's former protégé and best friend, Dani "Mega" O'Malley, is now her fierce enemy; and even more urgent, Highland druid Christian MacKeltar has been captured by the Crimson Hag and is being driven deeper into Unseelie madness with each passing day. The only one Mac can depend on is the powerful, dangerous immortal Jericho Barrons, but even their fiery bond is tested by betrayal.

It's a world where staying alive is a constant struggle, the line between good and evil is blurred, and every alliance comes at a price. In an epic battle against dark forces, Mac must decide who she can trust, and what her survival is ultimately worth.

Look for all of Karen Marie Moning's sensational Fever novels:
DARKFEVER | BLOODFEVER | FAEFEVER | DREAMFEVER | SHADOWFEVER | ICED | BURNED | FEVERBORN | FEVERSONG

Praise for Burned

"Karen Marie Moning is back, delivering the kind of spellbinding, addictive, twisted tale we love to devour. Magic and madness, intrigue and illusion, passion and power, sexual tension and more sexual tension. . . . Burned is a book that shouldn't be missed. Thrilling, suspenseful, sexy—it has all the right stuff to delight the most ardent of Fever fans."—USA Today

"Dark, delicious suspense! Karen Marie Moning is my author of choice and Fever is my series of choice for action-packed suspense with a spine-tingling paranormal twist."—#1 New York Times bestselling author Lisa Gardner

"A masterwork by an incomparable writer. Burned is brilliant, sexy, and dangerous. I adore Moning! No one does it better."—#1 New York Times bestselling author Sylvia Day

"Prepare for a heart-stopping trip into the epic Fever world, filled with gasp-out-loud surprises and sweltering sensuality."—#1 New York Times bestselling author Kresley Cole

"Burned gets the highest rating from me. I wanted to run through town shouting 'Mac is back! Mac is back!' Grab some snacks, something to drink, and settle down for a cover-to-cover read that will likely keep you up all night."—New York Times bestselling author Linda Howard

"One of the most anticipated books in romance . . . Burned is told through several viewpoints, but the dominating view is Mac's, and it's wonderful to have her back, as well as get to spend time with the two Alphas in her life."—Heroes and Heartbreakers

"Deeply complex, heady and action-packed."—RT Book Reviews
About the Author
---
Karen Marie Moning is the #1 New York Times bestselling author of the Fever series, featuring MacKayla Lane, and the award-winning Highlander series. She has a bachelor's degree in society and law from Purdue University.
Praise For…
---
"Karen Marie Moning is back, delivering the kind of spellbinding, addictive, twisted tale we love to devour. Magic and madness, intrigue and illusion, passion and power, sexual tension and more sexual tension. . . . Burned is a book that shouldn't be missed. Thrilling, suspenseful, sexy—it has all the right stuff to delight the most ardent of Fever fans."—USA Today

"Dark, delicious suspense! Karen Marie Moning is my author of choice and Fever is my series of choice for action-packed suspense with a spine-tingling paranormal twist."—#1 New York Times bestselling author Lisa Gardner

"Mac is back and badder than ever!"—#1 New York Times bestselling author J. R. Ward

"A masterwork by an incomparable writer. Burned is brilliant, sexy, and dangerous. I adore Moning! No one does it better."—#1 New York Times bestselling author Sylvia Day
 
"Prepare for a heart-stopping trip into the epic Fever world, filled with gasp-out-loud surprises and sweltering sensuality."—#1 New York Times bestselling author Kresley Cole
 
"Burned gets the highest rating from me. I wanted to run through town shouting 'Mac is back! Mac is back!' Grab some snacks, something to drink, and settle down for a cover-to-cover read that will likely keep you up all night."—New York Times bestselling author Linda Howard

"One of the most anticipated books in romance . . . Burned is told through several viewpoints, but the dominating view is Mac's, and it's wonderful to have her back, as well as get to spend time with the two Alphas in her life."—Heroes and Heartbreakers
 
"So what is it about Burned that sets it apart from its six predecessors? . . . Is it the twist(s) that left my jaw agape and my tongue mute for several long, stunned moments? Or maybe the steamy scenes Moning is so famous for that leave us hot, bothered and uncomfortably aroused? Or perhaps the expansion of mysterious characters' backstories that allows us a glimpse into what makes them tick? Maybe it's the discovery of new strengths within our favorite underdogs? Or perhaps it's simply how all of these things meld together into one breathtakingly beautiful aria from a truly talented writer whose ability to weave vivid imagery is unlike that of any other novelist. I suppose you'll just have to find out for yourself. Because this Moning Maniac is ready to crack that hardcover open and start it all over again."—PopWrapped
 
"Deeply complex, heady and action-packed."—RT Book Reviews
 
"If you are a fan of urban fantasy, this is an absolute, top must-read series.  I can't put into words how much I love the Fever world and Karen Marie Moning's writing. If you are a fan of distant, alpha male creatures, Barrons is the apex predator. He is by far my favorite character in urban fantasy literature. Mac is by far my favorite heroine for her humanity and kick ass-ness. If you are looking for an epic story, full of fae lore, twists and turns, misdirections and game changers, this is the series you must read."—Addicted 2 Heroines
 
"I say this all the time but I'll say it once again. If you haven't read the Fever series, you simply must. There aren't many authors out there who can still blow your mind like Karen Marie Moning can."—Under the Covers