The Food of Northern Thailand: A Cookbook (Hardcover)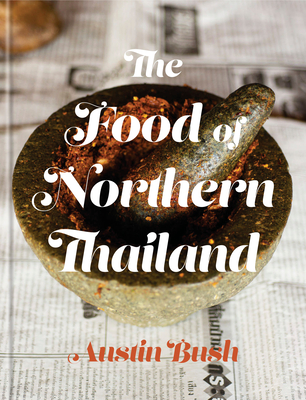 $46.80

Not in stock. Usually arrives in 2-5 Days
Description
---
JAMES BEARD AWARD FINALIST • Welcome to a beautiful, deep dive into the cuisine and culture of northern Thailand with a documentarian's approach, a photographer's eye, and a cook's appetite. 

Known for its herbal flavors, rustic dishes, fiery dips, and comforting noodles, the food of northern Thailand is both ancient and ever evolving. Travel province by province, village by village, and home by home to meet chefs, vendors, professors, and home cooks as they share their recipes for Muslim-style khao soi, a mild coconut beef curry with boiled and crispy fried noodles, or spiced fish steamed in banana leaves to an almost custard-like texture, or the intense, numbingly spiced meat "salads" called laap. 

Featuring many recipes never before described in English and snapshots into the historic and cultural forces that have shaped this region's glorious cuisine, this journey may redefine what we think of when we think of Thai food.
About the Author
---
Austin Bush has lived in Thailand since 1999. He speaks, reads, and writes fluent Thai, and has written extensively about Thai food. His writing and photography has appeared in more than twenty books for Lonely Planet, as well media outlets, including BBC, Bon Appétit, CNN Travel, Condé Nast Traveler, Olive, Monocle, the New York Times, Saveur, TIME, Travel + Leisure Southeast Asia, VICE,The Wall Street Journal Asia, and the Washington Post, among others. His blog was a finalist in Saveur magazine's Best Food Blogs awards. He works closely with Andy Ricker and has photographed the New York Times bestseller Pok Pok and its follow up, The Drinking Food of Thailand.
Praise For…
---
"A heaping bag of cookbooks for everyone on your gift list." —The Atlanta Journal-Constitution 

"I have been waiting for this book since the first time I ate laap meuang, way back in the early 90's. You see, until now there has not been a comparable book in the English language that dives so deeply into the food culture of Northern Thailand. Austin has compiled an incredible collection of recipes and insights, as shown to him by the generous and talented cooks of the region whose stories he tells, highlighting their proud culinary techniques and traditions along the way. The Food of Northern Thailand is now my go-to reference for this amazing cuisine; it should be yours, too." —Andy Ricker, chef/owner Pok Pok Restaurants 
 
"The Food of Northern Thailand is the first of its kind—a definitive portrait of a cuisine that is unique, esoteric and honestly, enigmatic to most. Humble guy that he is, Austin would never admit this, so I'll say it—he is the greatest living authority on the subject and the only person who could have brought this project to fruition. Thai food fanatics, rejoice!" —Kris Yenbamroong, chef and author of Night + Market
 
"The glory of northern Thai food comes shining through in The Food of Northern Thailand. You'll find in it the dishes that are well known among Thai-food enthusiasts worldwide and  the ones that only those deeply familiar with northern Thai food would know—all delicious, all presented the way they're really made, and all sure to get you excited to make them in your kitchen." —Leela Punyaratabandhu, author of Bangkok and Simple Thai Food
 
"I couldn't put this book down. In meticulous recipes, glossary, and text, Austin Bush transmits the extraordinary depth and breadth of  Northern Thailand's food culture with the assurance of deep familiarity and affection. My friends in northern Thailand will be thrilled to find their food celebrated with so much care and respect." —Naomi Duguid, author of Taste of Persia and Burma: Rivers of Flavor
 
"Austin has explored all parts of Thailand, every dusty village and it would seem every even dustier kitchen. And with each excursion into unfamiliar Austin records what he sees with a rare faithfulness. That's why I admire Austin and trust in what he writes. This book on northern Thai food is yet another example of his impeccable research and commitment to authenticity." —David Thompson, cook, chef, restaurateur 
 
"This is not just another Thai cookbook. It's a remarkable ethnographic work on the cultures and kitchens of the people of Northern Thailand. Read it and let yourself be swept away on this delicious journey." —Pim Techamuanvivit, chef/owner of Kin Khao in San Francisco, and chef of Nahm, at the Como Metropolitan in Bangkok
 
"Austin Bush's ode to northern Thailand is a charming head-turner. The images, stories, and recipes give you a multidimensional understanding of what makes Thai cuisine so damn interesting and delicious." —Andrea Nguyen, author of Into the Vietnamese Kitchen and The Pho Cookbook