Badges without Borders: How Global Counterinsurgency Transformed American Policing (American Crossroads #56) (Paperback)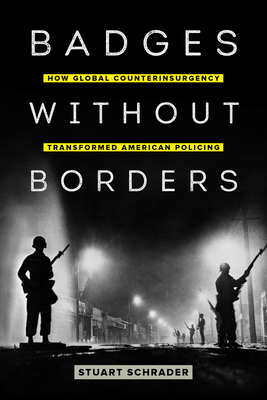 $37.44

Not in stock. Usually arrives in 2-5 Days
Description
---
From the Cold War through today, the U.S. has quietly assisted dozens of regimes around the world in suppressing civil unrest and securing the conditions for the smooth operation of capitalism. Casting a new light on American empire, Badges Without Borders shows, for the first time, that the very same people charged with global counterinsurgency also militarized American policing at home.
 
In this groundbreaking exposé, Stuart Schrader shows how the United States projected imperial power overseas through police training and technical assistance—and how this effort reverberated to shape the policing of city streets at home. Examining diverse records, from recently declassified national security and intelligence materials to police textbooks and professional magazines, Schrader reveals how U.S. police leaders envisioned the beat to be as wide as the globe and worked to put everyday policing at the core of the Cold War project of counterinsurgency. A "smoking gun" book, Badges without Borders offers a new account of the War on Crime, "law and order" politics, and global counterinsurgency, revealing the connections between foreign and domestic racial control.
About the Author
---
Stuart Schrader is Associate Research Professor of Africana Studies and Associate Director of the Program in Racism, Immigration, and Citizenship at Johns Hopkins University.
Praise For…
---
"In his distressing and erudite history, Schrader documents how many of the tools and tactics adopted by American police over the past half century were originally deployed to fight communism abroad. His argument, which Badges Without Borders persuasively demonstrates, is that the era of intensified American policing that began in the 1960s cannot be understood outside the context of the Cold War national-security state."
— Bookforum

"Badges Without Borders helps us to better understand the nature of police power and the dangerous allure of reform."
— Punishment & Society

"Shows how the logic of policing and counterinsurgency, as developed in interlinked ways both and home and abroad, were and remain inseparable from racialized logics that see empowerment of non-whites as inherently subversive of the established order."
— Small Wars Journal

"This is a meaningful addition to the literature on law, criminology, sociology, political science, and history. . . . Highly recommended."
— CHOICE

"Schrader's new history of the carceral state is an important resource for scholars, public policy reformers, and political activists alike."
— Boston Review

"Badges without Borders makes a groundbreaking contribution to the literature on the carceral state."
— Law & Social Inquiry