Victoria & Abdul (Movie Tie-in): The True Story of the Queen's Closest Confidant (Paperback)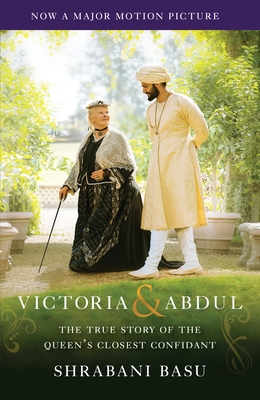 Description
---
Now a Major Motion Picture starring Dame Judi Dench from director Stephen Frears.

History's most unlikely friendship—this is the astonishing story of Queen Victoria and her dearest companion, the young Indian Munshi Abdul Karim.

In the twilight years of her reign, after the devastating deaths of her two great loves—Prince Albert and John Brown—Queen Victoria meets tall and handsome Abdul Karim, a humble servant from Agra waiting tables at her Golden Jubilee. The two form an unlikely bond and within a year Abdul becomes a powerful figure at court, the Queen's teacher, her counsel on Urdu and Indian affairs, and a friend close to her heart. This marked the beginning of the most scandalous decade in Queen Victoria's long reign. As the royal household roiled with resentment, Victoria and Abdul's devotion grew in defiance. Drawn from secrets closely guarded for more than a century, Victoria & Abdul is an extraordinary and intimate history of the last years of the nineteenth-century English court and an unforgettable view onto the passions of an aging Queen.
About the Author
---
Shrabani Basu was born in Kolkata and grew up in Dhaka, Kathmandu and Delhi. She moved to London in 1987 and is a correspondent for the Kolkata-based newspapers Ananda Bazar Patrika and The Telegraph. She is also the author of Curry: The Story of the Nation's Favourite Dish and the critically acclaimed biography Spy Princess: The Life of Noor Inayat Khan. She lives in London.
Praise For…
---
"A tale of Empire and intrigue, brought vividly back to life." --Vikas Swarup, author of Slumdog Millionaire

"If this had been the plot of a novel, it would have been dismissed as foolishly far-fetched. But Victoria & Abdul is fact rather than fiction, and therein lies its power."--The Times of India

"A charming tale which should have been told before."--Stephen Halliday, BBC History Magazine

"A book so startling that it changes your view of the world. One of the great love stories of all time."--Phillip Knightley, Khaleej Times