Yawd: Modern Afro-Caribbean Recipes (Hardcover)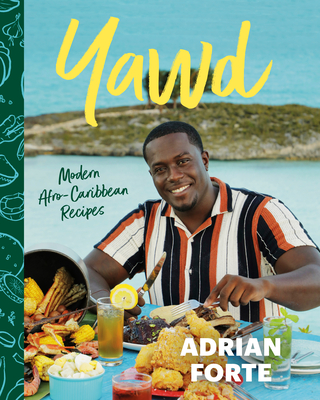 Description
---
A flavor-filled Afro-Caribbean cookbook, packed with more than 100 fresh recipes from Jamaican-Canadian chef star, Adrian Forte.

Yawd = comfort food that sticks to your ribs! Born in Jamaica, Chef Adrian Forte's cooking is bold, vibrant, and full of flavorful island vibes—it's what he calls "Yawd style". Adrian comes from family of chef—his two grandmothers owned a restaurant in Kingston—so being in the kitchen is his way of life. In Yawd he draws from his lifetime of cooking Afro-Caribbean food, and his experience as chef and culinary consultant of many cuisines, to create authentic recipes infused with both classic techniques and up-to-the-minute style.

In Yawd you'll find inspiring recipes for all kinds of Afro-Caribbean cooking—including appetizers, soups, porridges, salads, sides, mains and desserts. These are recipes destined to get your taste buds fired up, and—some—your lips stinging! And they all hit the spot. Try new riffs on classics like Coconut Fried Chicken, Caribbean Spiced Steamed Fish, and Ackee & Saltfish Fritters; or Hellfire Fish Tacos, Jerk Chicken Rasta Pasta, and Pepper Shrimp Paella. Adrian infuses Caribbean go-to favorites with his French chef training to create the dishes he's now made his signature, like Jerk Chicken Coq au Vin and Oxtail Gnocchi. And he embraces the Caribbean Ital focus on plant-forward eating, with innovations like Watermelon "Poke" and Mushroom Pappardelle.

As well as great recipes, Adrian explores the key ingredients and history of Afro-Caribbean cuisine, talking about he importance of using ancestral food sin our cooking—and sharing his multi-use recipes for essential such as Jerk Dry Rub, Jerk Marinade, and Pickled Scotch Bonnet Peppers.

With Yawd, you'll find diverse flavors and influences combining to create delicious Afro-Caribbean recipes that you can easily make at home, yawd-style.
About the Author
---
ADRIAN FORTE is a chef and culinary consultant for a wide range of clients and brands, and operates YAWD, a modern Caribbean pop-up restaurant (which garnered incredible reviews for the much-needed island vibes it brought to Toronto during the pandemic). Born in Kingston, Jamaica, Adrian moved to New York City in 2003, where he attended high school, and then to Canada, where he studied culinary arts at George Brown College in Toronto. Upon graduating, he became the executive chef at Gangster Burger and Rock Lobster, one of the co-founders of Dirty Bird Chicken & Waffles, owner of AF1 Caribbean, behind the menu development of Aunty Lucy's Burgers and guest chef at Café Boulud at the Four Seasons. Adrian uses his platform to champion the importance of Afro-Caribbean cuisine, and has been an integral voice in Canadian hospitality's movement toward a more equal and inclusive future.