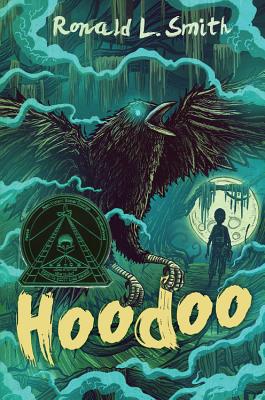 Description
---
Twelve-year-old Hoodoo Hatcher was born into a family with a rich tradition of practicing folk magic: hoodoo, as most people call it. But even though his name is Hoodoo, he can't seem to cast a simple spell. 
     Then a mysterious man called the Stranger comes to town, and Hoodoo starts dreaming of the dead rising from their graves. Even worse, he soon learns the Stranger is looking for a boy. Not just any boy. A boy named Hoodoo. The entire town is at risk from the Stranger's black magic, and only Hoodoo can defeat him. He'll just need to learn how to conjure first. 
     Set amid the swamps, red soil, and sweltering heat of small town Alabama in the 1930s,
Hoodoo
is infused with a big dose of creepiness leavened with gentle humor.   
About the Author
---
Ronald L. Smith is the Coretta Scott King/John Steptoe New Talent Award-winning author of Hoodoo, The Mesmerist, The Owls Have Come to Take Us Away, Gloom Town, and Black Panther: The Young Prince. He lives in Baltimore, Maryland.

www.strangeblackflowers.com
Twitter: @RonSmithbooks.
Praise For…
---
"The horror element is just as vividly drawn, with the terrifying Stranger rivaling Barraclough's Long Lankinin his creepiness. The straightforward plot makes this accessible to younger readers, and the atmospheric setting will certainly leave them with a chill."
—The Bulletin of the Center for Children's Books
"The action of the novel moves swiftly, and readers should be easily drawn into its dark, supernatural ambience."
—Publishers Weekly
"What a splendid novel. Reader, be prepared to have your foundations shaken: this is a world that is deeper, more wondrous, more spiritually charged than you may have ever imagined."
—Gary D. Schmidt,
two-time Newbery Honor medalist and author of
The Wednesday Wars
"Oh, wow! 
Hoodoo
 may just be the perfect book for a rainy day. Find a dog that will sit with you . . . and read on to your heart's content. What a fun discovery!"
—Nikki Giovanni,
poet and award-winning author of
Rosa
"I loved this book. Told by a narrator you won't soon forget, it is filled with myth and legend, danger and bravery. Hoodoo is pure folk magic, if you didn't know."
 —Keith Donohue,New York Times best-selling author of The Stolen Child
"The authenticity of Hoodoo's voice and this distinctive mashup of genres make Smith one to watch. Seekers of the scary and "something different" need look no further."
—Kirkus
"The chilling supernatural Southern Gothic plot action is enhanced by atmospheric description of rural life in Depression-era Alabama...Readers will particularly enjoy Hoodoo's authentic and engaging narrative voice."
—School Library Journal
"Hoodoo's first-person narrative, which flows beautifully, has an appealing and natural cadence...Through his protagonist, Smith demonstrates an eye for detail and a knack for evocative imagery as well as for telling a riveting story with a dollop of southern gothic appeal."
—Booklist
"Filled with folk and religious symbols, this creepy Southern Gothic ghost story is steeped in time and place. Hoodoo's earnest first-person narrative reveals a believable innocent who can 'cause deeds great and powerful.'"
—Horn Book Magazine