Girl Waits With Gun (A Kopp Sisters Novel #1) (Paperback)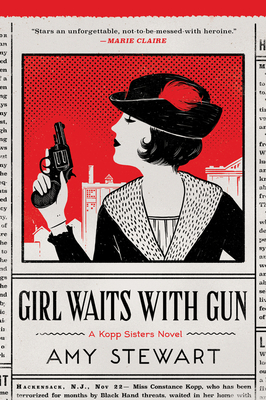 Other Books in Series
This is book number 1 in the A Kopp Sisters Novel series.
September 2015 Indie Next List
---
"Constance Kopp is 35 years old in 1914. Unmarried, with no job, she and her two sisters survive by selling off parts of the family farm in rural New Jersey. When their buggy is destroyed by a speeding car, the accident sets off a most unlikely chain of events including blackmail, kidnapping threats, gunfights, and stakeouts. Stewart, the author of The Drunken Botanist, tells the Kopp sisters' story -- a tale based on actual events -- with humor and a keen eye for the complex relationships between sisters, as they learn to stand up for themselves at last."
— Scott Brown (W), Eureka Books, Eureka, CA
Description
---
NATIONAL BESTSELLER. The first in the Kopps Sisters Novel Series, Girl Waits with Gun is an enthralling novel based on the forgotten true story of one of the nation's first female deputy sheriffs.
Constance Kopp doesn't quite fit the mold. She towers over most men, has no interest in marriage or domestic affairs, and has been isolated from the world since a family secret sent her and her sisters into hiding fifteen years ago. One day a belligerent and powerful silk factory owner runs down their buggy, and a dispute over damages turns into a war of bricks, bullets, and threats as he unleashes his gang on their family farm. When the sheriff enlists her help in convicting the men, Constance is forced to confront her past and defend her family — and she does it in a way that few women of 1914 would have dared.
A New York Times Editors' Choice
"A smart, romping adventure, featuring some of the most memorable and powerful female characters I've seen in print for a long time. I loved every page as I followed the Kopp sisters through a too-good-to-be-true (but mostly true!) tale of violence, courage, stubbornness, and resourcefulness."—Elizabeth Gilbert
About the Author
---
AMY STEWART is the New York Times best-selling author of the acclaimed Kopp Sisters series, which began with Girl Waits with Gun. Her seven nonfiction books include The Drunken Botanist and Wicked Plants. She lives in Portland, Oregon. 
Praise For…
---
A National Indie Bestseller A New York Times Editors' Choice A September 2015 Indie Next Pick One of People's "Best Books of the Fall" One of the Washington Post's "Notable Fiction Books of 2015" One of USA Today's "New and Noteworthy" One of New York Post's "Must-Read" Books One of Cosmopolitan's "24 New Books to Read this Fall" One of Paste Magazine's "15 of the Best New Books in September 2015" A Publishers Weekly "Best Book of 2015" One of BookPage's "Best Books of 2015" One of the St. Louis Post-Dispatch's "Best Books of 2015" A Publishers Marketplace Buzz Book of 2015, Fall/Winter "Constance Kopp, the feisty heroine of Amy Stewart's charming novel "Girl Waits With Gun," sounds like the creation of a master crime writer. At nearly 6 feet tall, Constance is a formidable character who can pack heat, deliver a zinger and catch a criminal without missing a beat. Based on the little-known story of the real Constance Kopp, one of America's first female deputy sheriffs, the novel is an entertaining and enlightening story of how far one woman will go to protect her family." —Washington Post  "Stewart has spun a fine, historically astute novel...The sisters' personalities flower under Stewart's pen, contributing happy notes of comedy to a terrifying situation...And then there is Constance: Sequestered for years in the country and cowed by life, she develops believably into a woman who comes into herself, discovering powers long smothered under shame and resignation. I, for one, would like to see her return to wield them again in further installments."—New York Times Book Review "The Kopps are the stars of Stewart's new zippy, winsome novel, Girl Waits With Gun. Filled with historical detail without being weighed down by it, the novel is a cinematic story of the women, the siege instigated by their powerful enemy, and their brave efforts in the face of real violence."—Los Angeles Times  "This rollicking western about a woman who'll do anything to save her family is based on the true tale of one of the country's first female deputy sheriffs." —People Magazine "This historical novel by the bestselling author of The Drunken Botanist stars an unforgettable, not-to-be-messed-with heroine – one of the nation's first female deputy sheriffs. It all begins circa 1910 when an earnest request entangles a family with the town thug. The rest is kickass history."—Marie Claire "Stewart gives us three sisters whose bond — scratchy and well-worn but stronger for it, as can happen with family ties — is unspoken but effortless. Girl Waits With Gun might sometimes be a story in which truth is stranger than fiction, but it also makes for pretty charming fiction."—NPR "Fans of strong female characters will find their new favorite heroine in Constance Kopp, who takes a bold stand against a gang that is threatening her family. Debut novelist Amy Stewart's Girl Waits With Gun is a historical thrill ride, racing through funny, tragic, and terrifying scenes. Even better, it's based on the true story of one of the United St —