A Love Letter to New Orleans (Hardcover)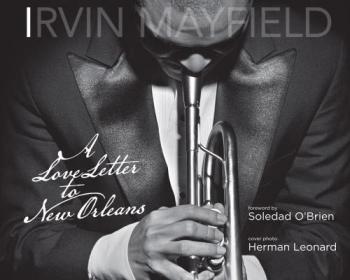 $40.00
Special Order. May not be available. Call the store for details.
Description
---
GRAMMY-AWARD WINNING JAZZ MUSICIAN, IRVIN MAYFIELD SENDS A LOVE LETTER TO NEW ORLEANS!



Deluxe multi-media coffee-table book and CD package chronicles Irvin Mayfield's artistic quest and development into one of America's most promising young jazz musicians.



Anchored by a stunning black and white cover photo of Mayfield by jazz photographer Herman Leonard, A Love Letter to New Orleans begins with a foreword by journalist Soledad O'Brien, who after her first interview with Mayfield, is convinced that in her next life she wants to come back as a native of New Orleans.



The richly illustrated collection of essays and photographs give life and meaning to each song on the accompanying CD, also titled A Love Letter to New Orleans. The book reveals intimate childhood memories and Mayfield's keen observations on art, love and loss. Throughout the book, Mayfield reminisces of the musical inspirations that fueled his creativity and led to his numerous artistic collaborations. In a poignant passage, he shares the quiet influence of his father, a postal worker who played trumpet and harbored dreams of one day "Getting out his old trumpet," to give his son some much needed competition. He candidly writes of an eclectic group of musicians who influenced his artistic pursuits including bassist George Porter Jr. of the Funky Meters; drummer Horacio "El Negro" Hernandez; Big Chief Bo Dollis of the Mardi Gras Indians; and piano genius James Booker. In a moment of candor, Mayfield reveals the creative bond and tension that developed between him and his co-bandleader, percussionist Bill Summers, of the critically acclaimed Los Hombres Calientes project. "We faced every challenge and argument that could arise between co-band leaders with a thirty year difference. It was our difference, however, that made for some really diversified and energetic music." states Mayfield.



The book is peppered with backstage anecdotes and funny studio shenanigans including a story about the mayhem of a typical New Orleans recording session for Los Hombres Calientes when much to the chagrin of Summers, Mayfield invited over 20 musicians including Kermit Ruffins who showed up with a suitcase of Bud Light, Trombone Shorty, an array of Mardi Gras Indians, some church singers, and at least 10 other musicians. In a chapter dedicated to Gordon Parks, the legendary film director and photographer who also plays piano on Mayfield's recording Wind Song, Mayfield recalls Park's advise to "Search, lead and love through your art." The many stories comes to life with vivid photographs by some of New Orleans most prodigious photographers, including Ericka Goldring, Jeff Strout, Greg Miles, and the late Michael P. Smith and Herman Leonard. Woven through each story is Mayfield's overwhelming love for New Orleans, the city of his birth. "New Orleans is not a city, New Orleans is an opportunity. It's not the music, the food, the architecture or the art that makes New Orleans great; It's the people," writes Mayfield.



Musically, A Love Letter to New Orleans includes 14 selections from Mayfield's 10-album recording career on Basin Street Records. "We selected songs that tell the story of Mayfield's evolution as an artist," states Mark Samuels, founder and CEO of Basin Street Records, who signed Mayfield to his first recording contract at the young age of 20. "A Love Letter to New Orleans is both a letter of thanks to all of the incredible artists that I had the honor to work with and it is a love offering to my beloved city of New Orleans." states Mayfield. The CD includes selections from the four critically acclaimed Los Hombres Calientes albums featuring Bill Summers and drummer Jason Marsalis. It also includes selections from Strange Fruit, and Love Songs & Duets, Mayfield's seminal recording with Ellis Marsalis. Other selections include collaborations with mentor and Grammy-award winning Wynton Marsalis, and the 80-piece Louisiana Philharmonic Orchestra, to name a few.


Praise For…
---
"A brilliant, poignant and deep look at the extraordinary life and music of Irvin Mayfield. This is a wonderful love letter to the great city of New Orleans, but it is also a rare peek at the influences that have shaped one of America's great artist."

--Anderson Cooper, CNN Anchor



"Irvin gives us a poignant, personal and comprehensive look into contemporary New Orleans, with the keen vision of a colorful, charismatic and deeply engaged artist. This book is a testament to the lasting glory of New Orleans' musical traditions and a shining example of the first class artistry that still resonates in Jazz, even today."

--Wynton Marsalis, Artistic Director, Jazz at Lincoln Center



"This sensuous and evocative book captures the spirit of New Orleans and the depths of its soul. Like Mayfield's music, it is as joyful and haunting and memorable as the city it celebrates. Mayfield has a great heart, and it beats throughout the book."

--Walter Isaacson, CEO The Aspen Institute



"Imagine the curved shards of a shattered beer bottle glinting in the neon lights of Bourbon or Frenchmen Street as if they were the eyes and ears of the New Orleans night and you would have a glimmer of the sensibility and life Irvin Mayfield distills through his music and trumpets to the world. This artful book and compilations are a testament to his talent, intellect, and the love he bears for his native town."

--Michael Sartisky, PhD, President/Executive Director, Louisiana Endowment for the Humanities