Owning Our Struggles: A Path to Healing and Finding Community in a Broken World (Hardcover)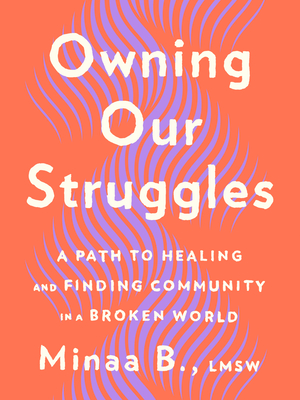 $28.00

Not in stock. Usually arrives in 2-5 Days
Description
---
Discover the power of collective healing in this research-based and real-world guide to moving past trauma and adversity—together.

Adversity comes in many forms, and can make us feel alone in our pain, even years after the fact. But as wellness coach and licensed therapist Minaa B. observes, we can't heal in isolation. The best way to move past individual trauma is through connection and community—healing ourselves and one another.
In this powerful and practical guide, Minaa shares therapeutic tools, client stories, and actionable insights to help you on your healing journey, along with reflections from her personal experiences. Each chapter focuses on a common emotional struggle—from overcoming dysfunctional family patterns to developing emotional maturity, finding our village, navigating racial trauma, and moving past isolation and despair.
Through her unique mix of deeply honest personal stories, proven practices, and prompts for writing and reflection, Minaa helps readers finally face their struggles, get unstuck, and transform their thinking—to claim agency in their own lives and circumstances, and to use that power to help heal a broken world.
About the Author
---
Minaa B. is a licensed social worker, mental health educator, and author of Owning Our Struggles. She also founded a mental health consulting practice where she collaborates with organizations to help them develop psychological safety. Additionally, Minaa runs an advice column called Free Therapy for Cosmopolitan magazine and is also a member of the Mental Health Advisory Committee for Wondermind, a mental fitness company co-founded by Selena Gomez. She is an expert in her field and has been featured in various media outlets, including Red Table Talk, Peace of Mind with Taraji, BBC, Essence, and others. Minaa resides in New York City.
Praise For…
---
"Owning Our Struggles is a book that fills in so many of the gaps often present in traditional self-help books, which tend to over-emphasize the importance of 'the self' in healing, and under-estimate the importance of community and culture. Written through the lens of deep expertise, lived experience, and sincere compassion, it reminds us that healing does not happen in individual silos. And that wholeness comes when we own our brokenness - especially the parts of ourselves that dominant culture has taught us to believe are broken. Through storytelling, reflections, and practical exercises, Minaa B. teaches us how to own our struggles—so that our struggles no longer own us."
—Layla F. Saad, New York Times-bestselling author of Me and White Supremacy

"Minaa's writing is a gift to us all. She gracefully and compassionately invites every reader to acknowledge and face confronting truths about a broken system that we live in, contribute to, and for many, often deny. In her debut book, Minaa generously shares her own story, the stories of others, as well as research to make a powerful case for a path forward for BIPOC individuals to heal pain and trauma. Community care is the answer. And as Minaa suggests, the ways we connect with one another and care for one another in our communities is the catalyst for the change we seek. This book is for every human because healing happens when we have a community upon which we can count. We don't arrive alone; we arrive with others."  
—Vienna Pharaon, LMFT, bestselling author of The Origins of You
 
"This book is a treasure. A collaborative tool for your healing journey. Minaa effortlessly weaves personal stories with deep research and hands-on exercises that feel like a bright light in a dark world. There is space, care, and a feeling of love for us to be free from trauma in the pages. A book to read slowly with a journal and pen."
—Tricia Hersey, Founder of the Nap Ministry and author of Rest Is Resistance: A Manifesto
 
"When I read Minaa B.'s book, my first thought was 'She truly gets it!' She sees the importance of relationships and how we think, feel and choose, and how this can impact how we function in our day-to-day life and our ability to overcome traumas through community care. Her book is a natural outpouring of her genuine compassion for people, and her incredible work."
—Dr. Caroline Leaf, Clinical neuroscientist, bestselling author, and host of the podcast Cleaning Up the Mental Mess
 
"In Owning Our Struggles, Minaa B. offers the perfect blend of empowerment and compassion, helping us reframe the thought patterns that have been keeping us stuck and giving us the tools we need to own our healing."
—Melissa Urban, New York Times-bestselling author of The Book of Boundaries

"Reading Minaa's book was like drinking cold water on a hot summer day. Her words are refreshing, compassionate, vulnerable, and honest. Owning Our Struggles provides the reader guidance while keeping them accountable. A beautiful and thought-provoking read for anyone on the journey of healing from trauma and adversity."
—Sara Kuburic, existential therapist, author of It's On Me, and creator of @millennial.therapist

"Minaa is a powerful storyteller who shares insights from her background as a therapist to show how healing is possible in every phase of life. Owning Our Struggles provides practical tools for cultivating resilience, managing difficult relationships, and moving through loneliness. The exercises provide an engaging framework to help build mental strength and empower you wherever you are on your healing journey."
—Barb Schmidt, bestselling author of The Practice and co-host of the Barb Knows Best podcast
 
"Minaa's skilled guidance in this book is soothing, powerful, and masterful. Profoundly addressing the struggles so many people face and become blocked by, this book is a must-read for anyone looking to deepen their understanding of themselves and find their way forward, towards a more whole and purposeful life. Owning Our Struggles is an immersive and transformative experience that will leave you prepared to reach your full potential. It's a freedom book!"
—Lalah Delia, author of Vibrate Higher Daily
 
"If you're ready to reclaim lost parts of yourself—if you're ready to come home to who you truly are—Owning Our Struggles is a place to begin."
—Amber Rae, author of Choose Wonder Over Worry