The Craft of the Cocktail: Everything You Need to Know to Be a Master Bartender, with 500 Recipes (Hardcover)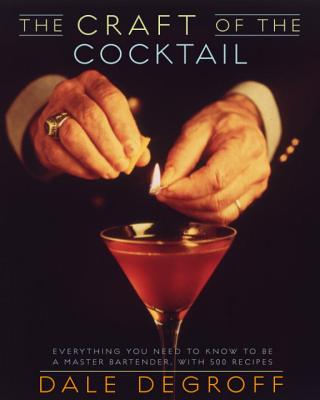 $35.00
Email or call for price
Description
---
The first real cookbook for cocktails, featuring 500 recipes from the world's premier mixologist, Dale DeGroff.

Covering the entire breadth of this rich subject, The Craft of the Cocktail provides much more than merely the same old recipes: it delves into history, personalities, and anecdotes; it shows you how to set up a bar, master important techniques, and use tools correctly; and it delivers unique concoctions, many featuring DeGroff's signature use of fresh juices, as well as all the classics.

It begins with the history of spirits, how they're made (but without too much boring science), the development of the mixed drink, and the culture it created, all drawn from DeGroff's vast library of vintage cocktail books. Then on to stocking the essential bar, choosing the right tools and ingredients, and mastering key techniques—the same information that DeGroff shares with the bartenders he trains in seminars and through his videos. And then the meat of the matter: 500 recipes, including everything from tried-and-true classics to of-the-moment originals. Throughout are rich stories, vintage recipes, fast facts, and other entertaining asides.

Beautiful color photographs and a striking design round out the cookbook approach to this subject, highlighting the difference between an under-the-bar handbook and a stylish, full-blown treatment. The Craft of the Cocktail is that treatment, destined to become the bible of the bar.
About the Author
---
DALE DeGROFF has been called "the Billy Graham of the holy spirits" by the London Tribune and "a master" by Martha Stewart, and is widely acknowledged to be the preeminent mixologist in the world. He's been featured in dozens of magazines and newspapers, including The New York Times, The New Yorker, GQ, Entertainment Weekly, Penthouse, Food & Wine, and Forbes; his television appearances include Martha Stewart Living and Today. For twelve years, Dale ran the bar at New York City's Rainbow Room and now serves as a consultant for such top restaurants as Balthazar. He has taught at the Culinary Institute of America (and stars in their bartending video) and the Institute for Culinary Education, among other venues. Dale grew up in Westerly, Rhode Island, and now lives on Long Island.

Visit Dale DeGroff at www.kingcocktail.com.