One Dat, Two Dat, Are You A Who Dat? (Hardcover)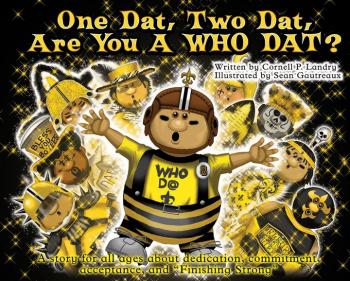 Description
---
From the author of GOODNIGHT NOLA! come a story for all ages about dedication, commitment, acceptance, and "Finishing Strong"



Once upon a time, not so very long ago, a baby boy was born in Anytown, USA. The date was November 1st, 1966. It was All Saints Day. Coincidentally, it was the very same day that the football team that he would grow up to love was conceived into their league.



Much like himself, this team, dressed in black and gold, was considered a perennial loser. Both were always the underdog.



However, in 2009, that all changed ...



This little "Anyman" could sense something magical was happening. He knew that this could finally be the year. So he packed his bags and his family and headed down to a magical place called "WhoDatVille," because, all of his life, the only thing he really wanted was to become a true member of the Who Dat Nation.