Our Caughnawagas in Egypt (Paperback)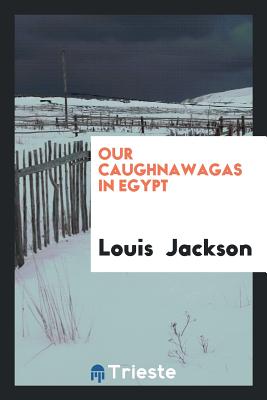 $13.99
Email or call for price
Description
---
About the Book
Books about Travel in Egypt describe travel, tourism and adventures in this ancient country, which was a cradle of civilisation, famous for its pyramids, a host of other monuments, and the mighty Nile river. Titles include: A Narrative of the Expedition to Dongola and Sennaar: Under the Command of His Excellence Ismael Pasha, Journal of a Visit to Egypt, Constantinople, the Crimea, Greece, &C. In the Suite of the Prince and Princess of Wales, Travels to Discover the Source of the Nile: In the Years 1768, 1769, 1770, 1771, 1772, & 1773. Vol. VIII, Out of Egypt Into Canaan; Or, Lessons in Spiritual Geography, and Village Life in Egypt: With Sketches of the Sa d,
About us
Trieste Publishing's aim is to provide readers with the highest quality reproductions of fiction and non-fiction literature that has stood the test of time. Our titles are produced from scans of the original books and as a result may sometimes have imperfections. To ensure a high-quality product we have:
thoroughly reviewed every page of all the books in the catalog
repaired some of the text in some cases, and
rejected titles that are not of the highest quality.
You can look up "Trieste Publishing" in categories that interest you to find other titles in our large collection.
Come home to the books that made a difference